IT is widely recognised that the Australian private hospital insurance (PHI) sector is in trouble, with younger customers abandoning insurance. Young people are not getting value for money, and subsidise older generations. Other countries with similar PHI allow private insurers to charge less for the young than the old (for example, in the US). It is important that premiums should not vary by pre-existing medical conditions, but perhaps it is time to consider age-based premiums in Australia.
PHI is getting into a "death spiral": the young and healthy are dropping out; and those left are older and more likely to use services, driving insurance premiums up further, and then more young consumers drop out. This vicious cycle continues until PHI is out of business.
In June 2020, 44% of all Australians held PHI, but uptake rates vary substantially by age, ranging from 22% among those aged 25–29 years, to 56% among those aged 70–74 years. In the past 5 years rates of PHI enrolment dropped the fastest among young people aged 20–34 years and increased the fastest among older people aged 70 years or older (Figure 1).
Figure 1. Trends in the proportion of Australians having private hospital insurance, by age cohort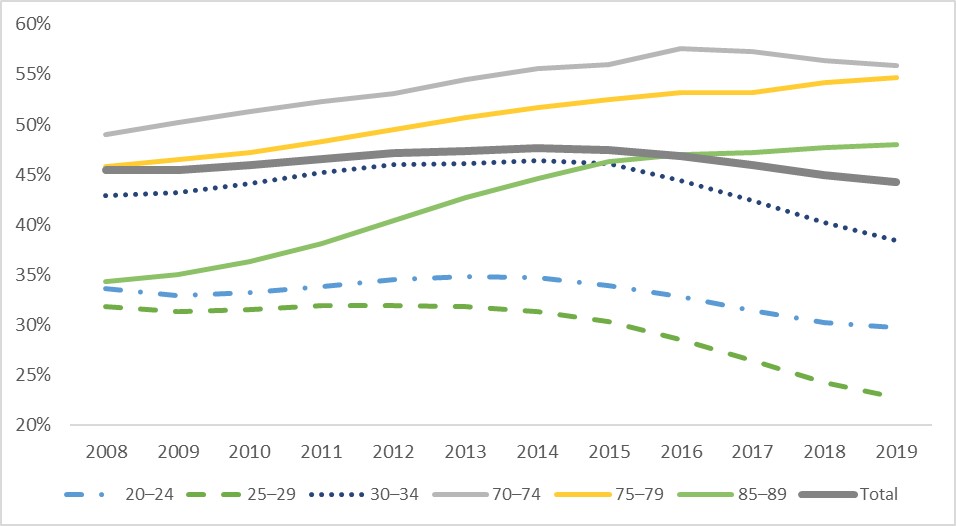 Sources: The author's calculation. There are two types of private health insurance: private hospital insurance and general treatment (ie, extra care including dental, optical, physiotherapy). This article focuses on private hospital insurance because it is much more expensive than extra care and is targeted by all current private health insurance regulations. Number of insured population by age cohort are from the Australian Prudential Regulation Authority's quarterly private health insurance statistics June 2020 issue released on August 18, 2020. Population size by age cohort is from the Australian Bureau of Statistics' Australian Demographic Statistics census survey.
Young people drop PHI because they are not getting value for money from purchasing it. The latest PHI statistics report by the Australian Prudential Regulation Authority showed that average hospital benefits per person in the year up to June 2020 were $550 for those aged 20–24 years, $740 for those aged 25–29 years, and over $6800 for those aged 85–89 years. In Australia, PHI premiums are set as community rating, so people pay same premiums regardless how much hospital care they use.
Figure 2 presents the difference between average hospital benefits and premiums from holding PHI per person per year for the year from July 2019 to June 2020, by age cohort. Clearly, the rational decision for the young is not to purchase PHI, if there were no government interventions.
Figure 2. Difference between expected hospital benefits and premiums from purchasing private hospital insurance per person for the year from July 2019 to June 2020, by age cohort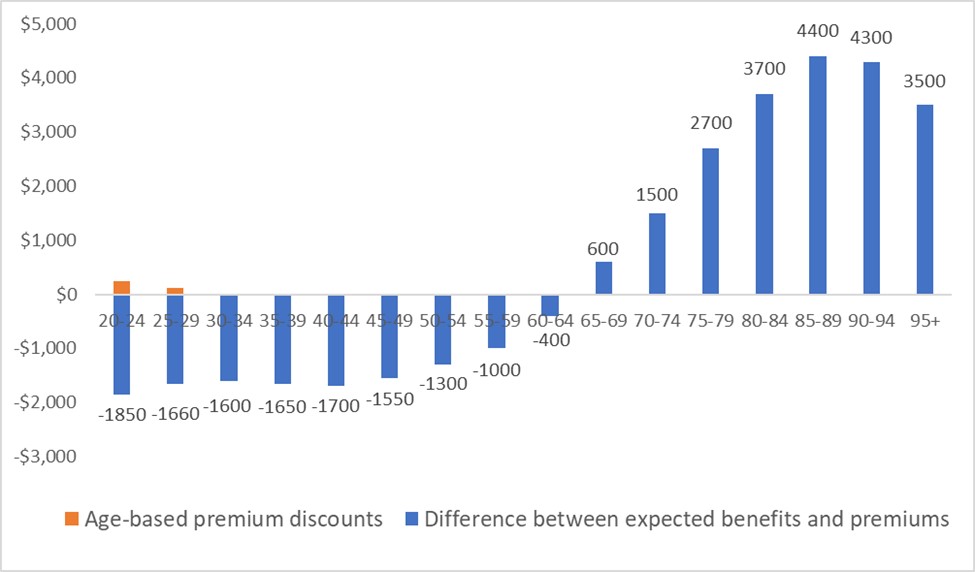 Sources: The author's calculation. Numbers shown on the bars are the difference between value and costs from purchasing private hospital insurance per person for the year from July 2019 to June 2020. Hospital treatment benefits per person per year are from the Australian Prudential Regulation Authority's quarterly private health insurance statistics June 2020 report (page 7). Because people are risk averse and they will gain value from purchasing insurance to protect their risk, but we do not have this data. However, young people may be less risk-averse than older people, so the value from risk protection is lower for the young. Thus, if the value from risk protection were included, the difference in benefits between the old and the young would be larger. Costs of private hospital insurance presented here only include premiums and do not include out-of-pocket payment at the time of services delivered. Premiums for hospital coverage range from $1200 to $3600 per year per person depending on coverage generosity (The Commonwealth Ombudsman. Compare Policies. 2020;. viewed August 28 2020). The middle point of $2400 is used as costs to plot this figure. The age-based premium discounts for 18–29 years are applied to age groups 20–24 years and 25–29 years. The allowable discount is 2% for each year when a person is aged under 30 years, ranging from 2% for 29 years, 4% for 28 years, to a maximum of 10% for 18–25 years of age.
In 1997–2000, three main policies (here, and here) were implemented in Australia to encourage people to sign up for PHI:
rebates are provided to those who buy private hospital insurance (higher rebates for people older than 65 years of age from 2005; rebates became means tested in 2012);
Medicare Levy Surcharge charges additional tax for people who earn above a certain threshold and do not hold private hospital cover; and
Lifetime Health Cover penalises young people who do not hold private hospital insurance after they turn 31 years by increasing their premiums.
Initially, these government interventions were effective in increasing uptake rates of private hospital insurance from 30% to 45%. However, these policies were implemented with high costs to taxpayers, and have recently become ineffective in increasing the PHI enrolment (here, and here). Further, the latter two are controversial. Why should private insurance be compulsory when all Australians have Medicare to cover their health care (here, and here)?
Instead of punishing the young who make rational decisions, policy makers should consider a more effective approach to increase value of PHI for the young.
Recently, the Australian government allowed insurers to offer people aged 18–29 years discounts of up to 10% of their premiums starting from 1 April 2019. Over a year later, young people still experienced the largest decline in private hospital coverage. It is possible that the young are affected most by the COVID-19 pandemic financially and have trouble affording PHI now. More young people may buy PHI after the pandemic is over. However, premium discounts are very small compared with the large difference between expected benefits and premiums for the young (Figure 2). Thus, it is unlikely that age-based discounts will solve the problem.
One possible solution is to allow premiums to vary by age. Age-based premiums have been used in other countries. For example, in the US marketplace, premiums vary based on five factors. Like in Australia, premiums vary by plan tier (higher premiums for gold plans than bronze plans), location, and individual versus family enrolment. However, marketplace plans can also vary premiums by age and tobacco use: premiums can be up to three times higher for older people than for younger ones; and tobacco users face up to 50% higher premiums. Similarly, private insurers in the UK can charge more for older people (especially for those aged over 50 years) than young people, and more for smokers than non-smokers.
The new policy should make PHI valuable for all Australians by allowing premiums to align more closely with expected benefits. Some may worry that older people cannot afford high premiums even though the product is valuable to them. For those who cannot afford PHI, the government can continue to subsidise their premiums, as currently people aged over 70 years receive rebates to cover 40% of their premiums.
Young Australians are facing more challenges than the old: long term impact from climate change, increasing house prices, and the recent economic downturn due to COVID-19, just to mention a few. On top of all these, the young also subsidise the old when it comes to PHI.
Efficiency and fairness both suggest that it is time to consider age-adjusted premiums for PHI.
Professor Yuting Zhang is Professor of Health Economics in the Faculty of Business and Economics at the University of Melbourne, and an expert on economic evaluations of health policy and health care reforms.
The statements or opinions expressed in this article reflect the views of the authors and do not represent the official policy of the AMA, the MJA or InSight+ unless so stated.