One thing is clear: primary mental health care must be at the heart of the next stage of national mental health reform.
THE future of primary mental health care will be a key challenge for the new federal government. Community demand for mental health care is far from satiated.
The Better Access Program began in November 2006, following on from the landmark Better Outcomes Program (funded initially in 2002), aiming to lift the number of Australians using primary mental health care services for mild to moderate mental health conditions, where short term evidence-based interventions are most likely to be useful.
Medicare spending on mental health services under the Program provided by GPs, psychologists and psychiatrists was more than $25 million every week in 2020–21. Given the magnitude of this public investment, it is important to track its progress.
Program architect Professor Harvey Whiteford and colleagues were able, in 2013, to find some evidence the Program has increased the rate of access of mental health care in Australia overall. More recently, the federal government increased the number of Better Access Program sessions per person from 10 to 20 annually at least until the end of 2022. The only formal government evaluation of the Program was in 2010. This evaluation found strong support from consumers for the Program, though respondents had been recruited by their treating health professional rather than independently sampled.
What has happened to Better Access?
Since the introduction of the Better Access Program (first full year 2007–08), there has been a continuous increase in the delivery of services by clinical and registered psychologists as well as by GPs (Figure 1). By contrast, there has been a much smaller increase in services provided by psychiatrists. Our analysis of Medicare data (available online) shows that in total, 125.5 million services have been delivered at a cost of $13.5 billion over the period 2007–08 to 2020–21.
Figure 1 shows a significant interruption to this upward trend in face-to-face Medicare mental health services in 2019–20, during the early phase of the COVID-19 pandemic, which prevented people from attending services in person.
Figure 1 – Better Access Program Face-to- Face Services 2007–08 to 2020–21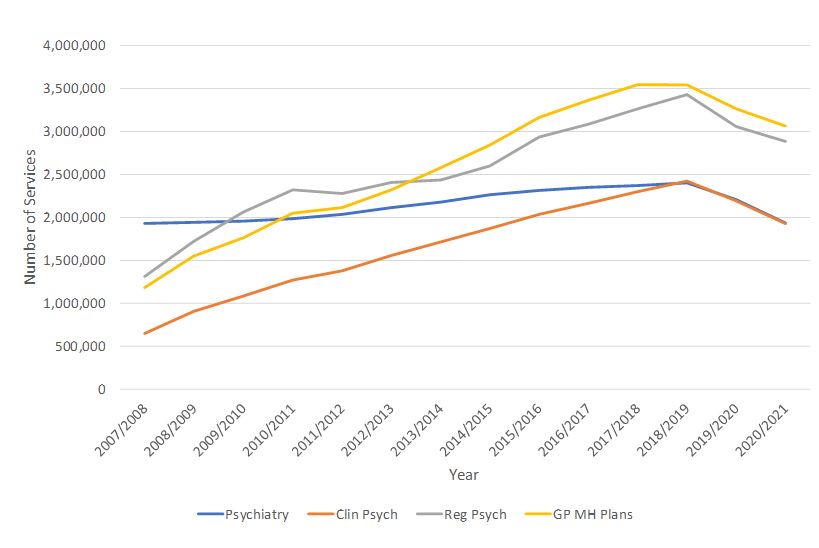 As telehealth services became more widely available under Medicare to compensate for this, the number of these services provided in 2020–21 more than doubled from the previous year, from 1.2 million to almost 3 million (Table 1).
Table 1 – Telehealth Services 2019–20 and 2020–21
| | | |
| --- | --- | --- |
| Service type | 2019–20 | 2020–21 |
| GP mental health treatment plan (telehealth service) | 21 635 | 35 353 |
| GP mental health treatment plan (phone service) | 280 314 | 723 945 |
| Consultant psychiatrist telehealth services | 103 597 | 294 270 |
| Consultant psychiatrist phone services | 159 870 | 413 651 |
| COVID-19 Clinical Psychologist psychological therapies telehealth services | 231 611 | 495 978 |
| COVID-19 Clinical Psychologist psychological therapies phone services | 112 817 | 205 388 |
| COVID-19 Registered Psychologist focused psychological strategies telehealth services | 194 213 | 478 323 |
| COVID-19 Registered Psychologist focused psychological strategies phone services | 138 704 | 274 190 |
| Total | 1 242 761 | 2 921 098 |
Source: Medicare Group Statistics Reports, online database.
Taking these increases in telehealth services into account, the overall upward trend in Medicare mental health service delivery, while now bifurcated between face-to-face and telehealth care, remains clear.
Whereas the number of services may be increasing, the number of clients receiving care is less clear. The Productivity Commission's Report on Government Services shows that the proportion of clients who were new to the Better Access Program was 36.6% in 2012–13 but only 29.2% in 2020–21. The majority of service users are therefore repeat patients seeking ongoing support.
This trend prompts questions not only about the impact of the Program but also in relation to overall program design. Specifically, these data raise the possibility that Better Access Program services are not being provided for "short term" interventions as originally intended, but increasingly for users with more complex, longer term needs. In the absence of definitive outcome data, questions have been raised about the Program's effectiveness.
The most recent changes in the operations of the program introduced during the COVID-19 pandemic in response to the surge in demand have placed further emphasis on the provision of extended care rather than making it easier for more Australians to find mental health care. It is also noteworthy that GPs wrote more than 1.2 million mental health plans for Australians in 2020–21 but of these, only just over one-third (36.8%) were reviewed, meaning patients' progress was largely unmonitored by their GPs. Without monitoring, it is not possible to discern if a person's mental health is improving or worsening and plan next steps appropriately. It also removes an important element of systemic accountability.
Constraints and issues
There are workforce constraints with limits on working hours and the overall number of professionals. Paradoxically, this might mean that recent federal government funding that increased the number of sessions available per person may actually decrease the total number of people able to access the program, perversely making public access worse for some, not better. This situation is most acute for psychiatry services, where growth under the Better Access Program has been appreciably slower than among the other professional groups.
We know that out-of-pocket costs associated with the fee-for-service model under which the program operates deter people from seeking care. Simply making more sessions available does nothing to alleviate this burden.
This analysis and commentary around the Better Access Program should be seen in the context of recent recommendations for its reform and better targeting made by the Productivity and Victorian Royal Commissions, as well in the earlier comprehensive review undertaken by the National Mental Health Commission in 2014. They all suggest that the most effective way to organise primary mental health care is on a region-by-region basis, creating opportunities for state and federal agencies to work more closely together, pool funding and conduct joint planning.
Participants in the recent Sydney Mental Health Policy Forum expressed their strong support for structural reform in mental health, including for multidisciplinary approaches combining clinical and psychosocial care in new ways particularly to meet the needs of people with more complex mental health problems. For these people, repeatedly going to see the same clinician working alone may be insufficient to address their multifaceted needs. For example, a person with an eating disorder may well benefit from a coordinated team comprising a GP, a psychiatrist, a psychologist, a nurse, a dietician, and other allied health support plus peers.
Where to now?
There are new "bilateral" agreements in place between the federal government and all states and territories. The publicly available information on these agreements does not suggest they involve either a significant shift to greater regional control of funding and planning, nor better targeting of the Better Access Program as part of more general primary mental health care reform. Both the Victorian and the federal government are working to establish new community mental health clinics, but how these relate to each other and to the task of primary mental health reform is unclear.
A second federal government review into the Better Access Program is underway and was due for completion in June, with findings expected any day now. It represents an important opportunity to recalibrate the program around its initial mission to increase public access to primary mental health care and to consider related issues such as quality and value for money, as well as to ensure other services are available for people needing more than short term mental health interventions. This work must be central to the structural and strategic reform of mental health, as a priority for the incoming Labor government.
There are four obvious focal points for this recalibration.
First, consideration must be given as to how to increase access to specialist assessment and short term interventions, along the lines originally envisaged for the program.
Second, there is a need to develop practice incentives that support provision of services under the program to disadvantaged and other groups currently missing out. This would include economic, social, geographic and cultural groups.
Third, there is clearly a need for new incentives to support active review of patient plans. This is core to program accountability.
Finally, there is a need to develop and promote the use of new technologies to support more effective triage, assessment and review of patient progress.
The federal government is clearly thinking about the future of telehealth right now. One thing is clear: primary mental health care must be at the heart of the next stage of national mental health reform.
Dr Sebastian Rosenberg is a Senior Lecturer at the Brain and Mind Centre, University of Sydney.
Professor Ian Hickie is Co-Director of the Brain and Mind Centre, University of Sydney. He is a member of the Clinical Advisory Group for evaluation of the Better Access Initiative.
The statements or opinions expressed in this article reflect the views of the authors and do not necessarily represent the official policy of the AMA, the MJA or InSight+ unless so stated.
Subscribe to the free InSight+ weekly newsletter here. It is available to all readers, not just registered medical practitioners.
If you would like to submit an article for consideration, send a Word version to mjainsight-editor@ampco.com.au.