GPs with mental health expertise are leaving the profession, leaving a worrying gap in the delivery of vital frontline mental health care, writes Canberra GP Dr Louise Stone.
In part one of this two-part series, I introduced the concept of mental health generalism, a term I use to describe the core skills required to assess and manage common mental disorders and address other conditions that can profoundly affect mental health.
This kind of work is done predominantly by general practitioners, although generalist nurses and nurse practitioners, particularly in rural and remote settings, do this work as well.
Unfortunately, GPs with expertise in mental health are leaving the profession.
The reason for this shift is clear; I have written before that mental health generalists are underfunded, underestimated and appear to be undervalued.
How are mental health generalists trained?
All GPs are trained to provide mental health care, with mental health deeply represented across the curricula and Fellowship examinations of the Royal Australian College of General Practitioners and the Australian College of Rural and Remote Medicine.
Every workforce is uneven in its skills and capacities, and there is no doubt for every expert mental health generalist, there are others in the GP workforce who lack the skills and motivation to do this work.
In addition, there are GPs with considerable mental health skills, including self-funded Masters degrees in Psychiatric Medicine, Family Therapy and Psychotherapy.
Many more have had years of training in psychiatry, social work or psychology, or simply had a lifetime of supervised expert practice.
I believe these expert mental health generalists are prevented from doing the work they are trained to do by structural and policy impediments.
Those who do make a personal commitment to subsidise the Australian health care system by continuing to care for Australia's most vulnerable patients do so at the cost of their business's financial viability. I have given examples of this in Table 1.
Training cannot fix this problem.
Although it is tempting to respond to the problem of mental health care gaps by upskilling the least capable GPs in the system, subsidising training while disincentivising practice is like putting a foot on the accelerator and the brake at the same time.
It can't improve the capacity of general practice to deliver better service.
Why are mental health generalists leaving the workforce?
Our health system is dependent on volunteer GP labour.
Governments nudge GPs into financially unsustainable bulk billing, by feeding the narrative that this is what the public deserve.
GPs enable public dependency on cheap primary care by donating increasing amounts of time, energy and skill for the sake of their vulnerable patients.
The inability to care for our most vulnerable patients and the moral distress of realising how deeply financial exploitation extends are destroying the workforce.
The only way to effectively manage this unhealthy dependency is to walk away, and mental health generalists are leaving.
The attrition of GPs has been devastating for many communities, particularly in rural and remote Australia.
If we lose mental health generalism – and we are losing the GPs doing this work through financial and emotional bankruptcy – we also lose other capacities.
Losing female GPs
Many of the GPs doing this work are women.
It is common for women to carry the emotional labour of the workplace, and for this work to be partly responsible for the gender pay gap.
As we lose mental health capacity, we will also lose workforce expertise and capacity in women's health and complex chronic care.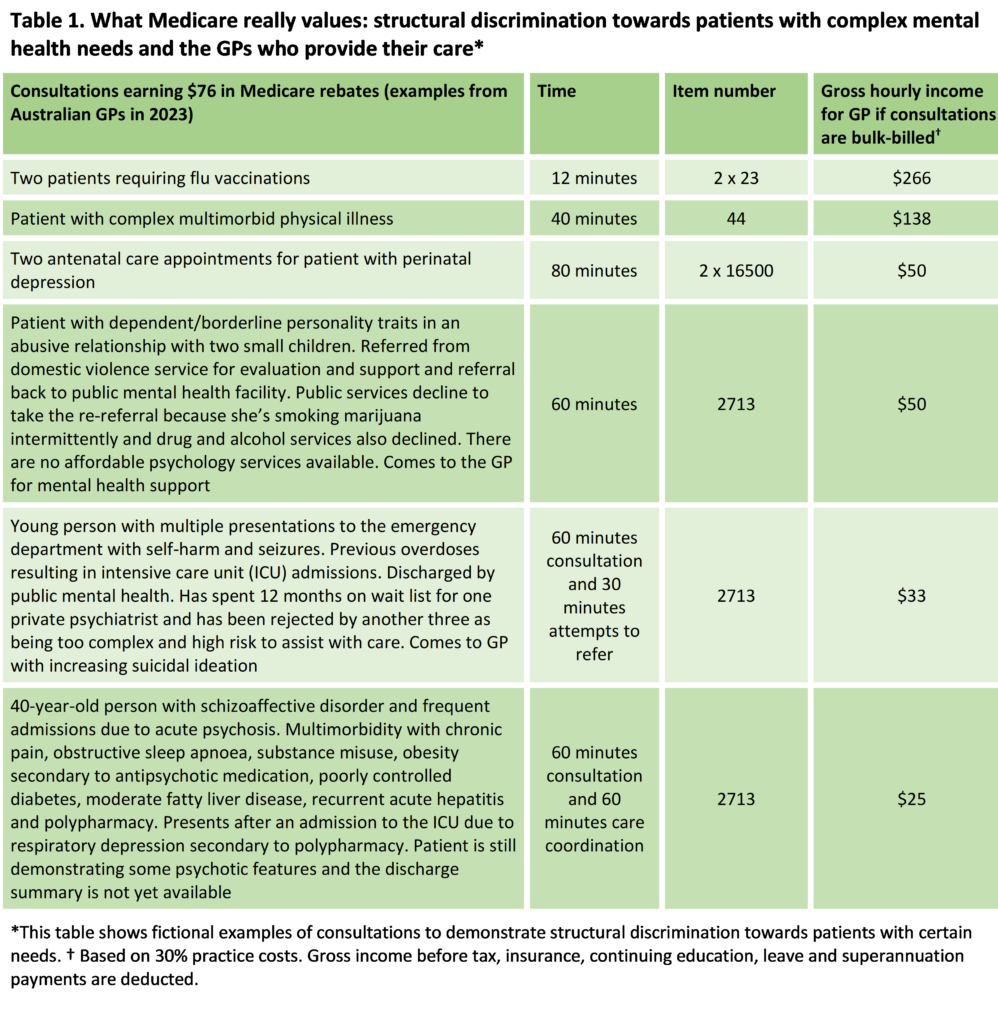 Saving mental health generalists from extinction
Mental health generalists have become an endangered species.
Hopes to replace these expert generalists with teams of subspecialised experts in psychiatry, psychology and social work assume there is a well trained and distributed psychiatry, nursing and allied health workforce willing to work for $50 per hour.
To replace mental health generalists, we would need to backfill generalist diagnostic and management skills into specialised disciplines.
New multidisciplinary team structures would need to have the capacity to make physical as well as mental health diagnoses, manage multimorbidity, and maintain a system with no barrier to clinical entry.
More realistically, we could support mental health generalists to do the job they are trained to do; that is, reversing policy disincentives to do mental health work.
Maintain a diverse and skilled workforce without a 30% gender pay gap.
Offer psychiatry, psychology and social work consultants, not just specialists, so GPs can bring in clinical expertise, rather than refer patients out to yet another complex team.
In doing so, we could save the mental health generalists we have left before they are nudged out of the workforce altogether.
Psychiatrists, psychologists, mental health nurses and social workers are obviously critical members of the mental health workforce.
However, they are not the experts in the management of patients who they never see.
It is time to support mental health generalists and recognise them as the experts they are.
This part two in a two-part series in on mental health generalism. Read Dr Louise Stone's first article published last week.
Dr Louise Stone is a Canberra GP with clinical, research, teaching and policy expertise in mental health.
She is Associate Professor in the Social Foundations of Medicine group, Australian National University Medical School.
The statements or opinions expressed in this article reflect the views of the authors and do not necessarily represent the official policy of the AMA, the MJA or InSight+ unless so stated.
Subscribe to the free InSight+ weekly newsletter here. It is available to all readers, not just registered medical practitioners.
If you would like to submit an article for consideration, send a Word version to mjainsight-editor@ampco.com.au.