THERE is no sound ethical argument why health care professionals should not vaccinate children aged 12 years and over who want protection against COVID-19, even if their parents do not consent to the procedure, according to two of Australia's leading medical ethicists.
Professor John Massie, Professor of Paediatrics at the University of Melbourne and a leading child bioethicist, told InSight+ in an exclusive podcast that at the heart of the issue was the capacity of the child to make a decision in their own interest.
"We assume adults have capacity to make decisions that are in their own interests," he said. "And we then have to work hard to prove they don't if they're making a bad decision for themselves.
"In children, it's flipped – we assume that children don't have capacity to make decisions for themselves.
"Most people would think that 16-year-olds can make most decisions for themselves, and then under 16, for virtually anything, children would need the consent of a parent to undertake a procedure."
The underlying ethical principle that should guide vaccine providers when assessing the child's capacity was the "mature minor doctrine", Professor Massie said.
"The mature minor is a doctrine that is situated in the context of the procedure, or intervention that's being proposed. There's going to be a range of things that a young person might decide for themselves.
"If they have the capacity to understand the nature of the illness, for example, and the procedure and the side effects and the risks, then they should be able to give consent for that to happen."
The key was for the vaccine provider to assess each child's ability to do that on an individual basis.
"It is clear that the onus is on the provider to assess the capacity and record that."
In a Perspective for the MJA, Professor Massie and his coauthors provide a table of the sort of things a clinician might want to consider when assessing a young person who requests a COVID-19 vaccine.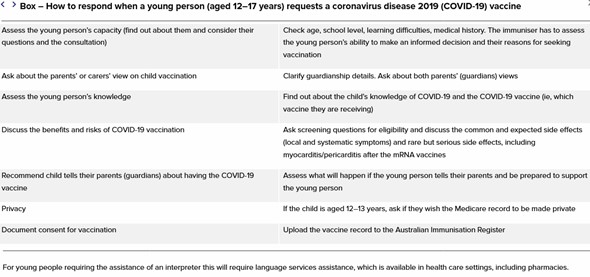 Professor Paul Komesaroff, Professor of Medicine at Monash University and Executive Director of NGO Global Reconciliation, told InSight+ the concept of vaccinating a child against their parents' wishes was "uncontroversial" and "nothing new".
"[The mature minor doctrine] is a principle that involves judgment in individual cases," he said.
"The choice, certainly in [judging] Gillick competence, comes down to the medical practitioner making an assessment of the child on the basis of that privileged relationship that a health professional has with the young person.
"[Massie and colleagues] propose a set of very prudent and, I would expect, practically helpful guidelines for clinicians in all contexts.
"They have been at pains not to state an extreme, exaggerated, or even unfamiliar position. They make links with the existing legal and ethical structures in order to establish the principle that vaccination of young people 12 years and older satisfies the same principles that other forms of medical treatment have."
Despite the ethics of vaccinating children against their parents' wishes being clear, the legal protections for vaccine providers in a situation where the parents may object remain "very messy", according to Professor Massie.
"The Australian Immunisation Handbook says that there are various state rules, but if it's unclear, the vaccine provider should rely on mature minor doctrine," he said.
"In some states, like Queensland and Victoria, it's clear that the 12- to 15-year-old group should be able to get vaccinated under their own steam.
"In South Australia, Western Australia and New South Wales, you need a parent's consent, but in NSW it's messy depending on who you ask."
Professor Massie said it was not the vaccine provider's role to be "adversarial" with parents.
"We're trying to preserve parental involvement in the care and treatment decisions – after all parents are the natural decision makers for their kids," he told InSight+.
"But they don't have absolute authority or absolute sovereignty over their kids. They're limited in their decision making by their own capacity to make a decision, which ideally is in their child's best interest, or at least not harmful to the interests of their kids.
"The emerging autonomy of the child then needs to be taken into account.
"You could build a case here that says the child is deciding for themselves that value judgment about whether vaccines are good.
"So the weighting falls to the kid who has capacity to make that decision."
In another article published online first at the MJA, authors from the Murdoch Children's Research Institute and the University of Melbourne have detailed the potential indirect impacts of the COVID‐19 pandemic on children.
"We identified 11 impact areas, under three broad categories," the authors, led by Professor Sharon Goldfeld, wrote.
Child-level factors:
Poorer mental health
Poorer child health and development
Poorer academic achievement
Family-level factors:
Poorer parent mental health
Reduced family income and job losses
Increased household stress
Increased abuse and neglect
Poorer maternal and newborn health.
Service-level factors:
School closures
Reduced access to health care
Increased use of technology for learning, connection and health care
Goldfeld and colleagues proposed five "potential strategy areas" for policymakers to consider:
Addressing financial instability through parent financial supplements
Expanding the role of schools to address learning gaps and wellbeing
Rethinking health care delivery to address reduced access
Focusing on prevention and early intervention for mental health
Using digital solutions to address inequitable service delivery
"History shows us that children already experiencing adversity lose out the most, with the potential for widening health inequities," Goldfeld and colleagues concluded. "Now is the time to not only repair the past, but to start to re-imagine the future for a more equitable Australia for children."