THE new "TGA-assessed" symbol and AUST L(A) listing on complementary medicines are meant to alert consumers that the Therapeutic Goods Administration (TGA) have assessed the product's health claims and found them supported by scientific evidence.
On 26 May 2021, Caruso's Prostate EZE Max became the first herbal complementary medicine to receive Aust L(A) listing. This decision calls into question the evidence assessment undertaken by the TGA.
Caruso's Prostate EZE Max contains herbal extracts of Prunus africana (Pygeum), Serenoa repens (Saw palmetto extract), Epilobium parviflorum (willowherb), Cucurbita pepo (pumpkin seed oil) and lycopene (found in tomatoes and some other red fruits and vegetables).
The TGA-assessed indication is, "For the relief of nocturia (night-time urinary frequency) associated with medically diagnosed benign prostatic hypertrophy (BPH)".
We could find only one published article about this product, authored by Coulson et al, published in 2013. The study was funded by Caruso's (Natural Health Pty Ltd) and performed by Australian contract researchers. It was called a phase 2 randomised double-blinded trial and recruited 60 otherwise healthy males aged 40–80 years who presented with medically diagnosed benign prostatic hypertrophy. Three participants dropped out after randomisation, leaving 32 taking the herbal capsule and 25 a matched placebo for 3 months of treatment. Blinding was not assessed by asking participants to guess their treatment allocation.
Figure 1 (A and B) in Coulson et al showed changes in daytime and night-time frequency of urination in the herbal and placebo group, measured by a daily record in a patient diary, with the frequency averaged at 1 month, 2 months and 3 months.
There are several discrepancies between the urinary frequencies reported in the text of the article and the tables in Figure 1. In addition, the graphs do not include zero in the y-axis; therefore, small trends and differences are exaggerated. Furthermore, they fail to show the ± 95% confidence intervals of the mean urinary frequency at each time point. These problems raise questions about the quality of the research and the conclusions reached. Based on our own calculations, we have re-graphed the data below showing the ± 95% confidence intervals.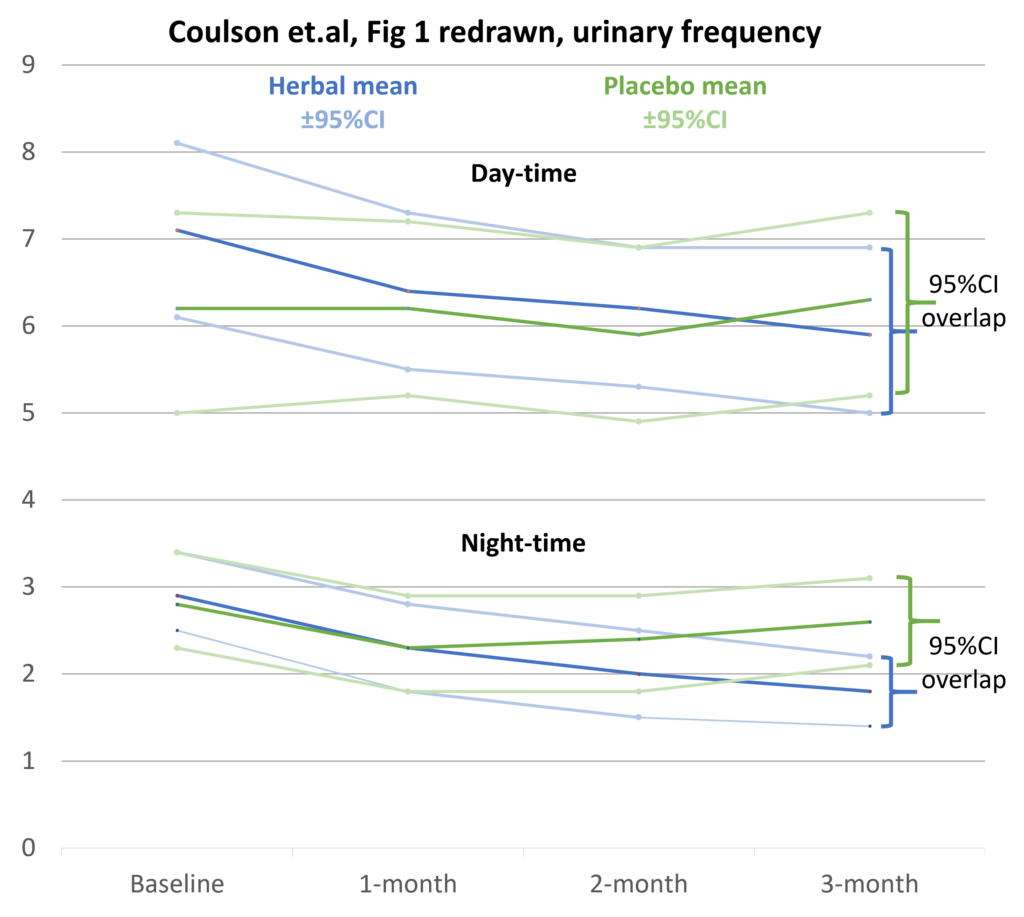 The TGA Evidence guidelines for listed complimentary medicines (page 41) say:
"Confidence intervals of 95% are commonly employed to show the range within which the true outcome value could be expected to occur with 95% certainty. When 95% confidence intervals are generated for primary study outcome measures, the 95% confidence intervals of the intervention and exposed groups must not overlap"
The Figure 1 (B) table in Coulson et al and our redrawn graph show overlapping 95% confidence intervals of the herbal and placebo groups at 3 months. This casts doubt on the results of the statistical tests reported as showing the night-time urinary frequency significantly reduced in the herbal group compared with the placebo group (P < 0.004). The latter cannot be checked as we have no access to the raw data.
In addition, P values are problematic. Confidence intervals give the best estimate of the actual effect and indicate the extent of uncertainty in the results.
The primary outcome of the trial was the seven-question validated international prostate symptom score (IPSS). The question on nocturia asked: "How many times did you typically get up at night to urinate (0–5)?"
There was no significant difference in the scores of individual IPSS questions between the herbal and placebo groups over 3 months except for night-time urination frequency, which was said to show a statistically significant reduction from a mean score of 2.5 to 2.0 at 3 months (P < 0.05). However, as raw data were not provided, this result could not be checked. In addition, it is not in keeping with the finding of overlapping confidence limits for the night-time urination frequency means. Editorial comment on this study by Kaplan is scathing.
Coulson and colleagues did state:
"The major limitation of this preliminary clinical study is the relatively low sample size and the lack of comparative studies that have investigated the herbal combination. Hence, further clinical studies on a larger sample cohort with the addition of more objective outcomes such as flow rate are required"
We asked Caruso's if they had conducted additional, more definitive, clinical studies on their product. We have not received a response. This raises a serious question – why did the TGA gave an AUST L(A) listing to this product?
The United States Food and Drug Administration has not approved any herbal medications for treatment of an enlarged prostate. Registered prescription products (α-blockers alone or in combination with 5-α-reductase inhibitors) are currently the medical treatment of choice for BPH.
Has Caruso's provided more definitive (albeit unpublished) clinical trial results to the TGA? If so, the TGA should critically assess these studies and place a summary in the public domain, as they do with newly evaluated registered products (AusPARs). This would allow health professionals and consumers to make an objective comparison of the Caruso herbal product compared with current registered medical treatments such as the combination of dutasteride and tamsulosin (Duodart). Without this, the TGA's AUST L(A) assessment of Caruso's Prostate EZE Max product does not engender confidence.
The AUST L(A) pathway was introduced on 19 March 2018. It allowed sponsors of complementary medicines to list their products using intermediate level health claims if supported by a pre-market assessment of scientific evidence by the TGA ("Purpose of the Bills"). The aim was to encourage more evidence-based products and help consumers choose them by designating them AUST L(A) and allowing a "TGA assessed" symbol on the pack and promotional material.

Three years later, there are only two AUST L(A) products listed on the Australian Register of Therapeutic Goods (ARTG). In addition to Caruso's Prostate EZE Max the other is Care Pharmaceuticals Hydralyte Orange Flavoured Effervescent Electrolyte Tablets. The latter product is unremarkable – its indication is "decrease/reduce/relieve symptoms of dehydration". There are 47 other AUST L(A) Hydralyte products on the ARTG with the same indication.
The paucity of AUST L(A) products after 3 years suggests that the industry considers a better return on investment comes from spending money on celebrity endorsement and promotional hype rather than undertaking research and paying the higher fees required for AUST L(A) listing or AUST R registration.
Complementary medicines labelled AUST L have no pre-market evaluation by the TGA. Sponsors self-certify regulatory compliance, including that they hold evidence for the claims made. TGA post-marketing surveillance assesses around 160 listed products a year (out of more than 10 000). Over the past 5 years, on average, about 75% of products evaluated have consistently been found non-compliant, mainly because companies were unable to produce evidence to substantiate claims for efficacy.
Given this, it is not surprising that the confidence of GPs and consumers in the TGA's regulation of complementary medicines is low. The TGA's assessment of Caruso's Prostate EZE Max as AUST L(A) is likely to reduce this confidence even further.
Dr Ken Harvey AM is President of Friends of Science in Medicine, and Honorary Adjunct Associate Professor at Bond University.
Professor John Dwyer AO is Past President of Friends of Science in Medicine, and Emeritus Professor of Medicine at UNSW Sydney.
The statements or opinions expressed in this article reflect the views of the authors and do not represent the official policy of the AMA, the MJA or InSight+ unless so stated.