WITH two Royal Commissions, one Productivity Commission Inquiry and a Review of the Medicare Benefits Schedule (MBS) all underway concurrently, even by mental health's standards it is a chaotic, pre-election environment. This article explores the context for one of these, the MBS Review, and considers how online psychological therapies could feature more prominently as part of a shift towards a fit-for-purpose, 21st century mental health system.
Mental health under Medicare now
The MBS Review Mental Health Reference Group has published its report and recommendations, part of the overall Professional Services Review into Medicare. It recommends very a significant expansion of the Better Access Program, which enables Medicare-subsidised visits to psychologists.
It makes this recommendation despite evidence indicating that the program is unfairly distributed across Australia in terms of geography and wealth, suffers from gender imbalance and high out-of-pocket costs (gap fees), and has had marginal, if any, impact on the prevalence of mental illness in Australia.
The program has been growing at about 7% each year, costing $1.45 billion in 2016–17. The average number of services provided per patient has been steadily declining, from 4.95 in 2011–12 to 4.64 in 2016–17, perhaps suggesting overall acuity — the measurement of the intensity of care required by a patient — in the client group has diminished. The number of new clients has also declined rapidly. These people should be the lifeblood of this program, designed as it was for short and targeted interventions for people with mild to moderate mental health problems. This is where the evidence for psychological therapies, particularly cognitive behavioural therapy, is strong, as a proportion of the total new clients into Better Access were 68% in 2008, 57% in 2009, and just 32.6% in 2016–17.
How the MBS Review wants to change Better Access
The Reference Group has proposed a significant expansion of psychology services under Better Access through making eligible:
people without any mental health diagnosis;
the family and carers of people with a mental illness who might benefit from psychological care; and
people with moderate to severe mental health conditions requiring up to 40 sessions of psychology care in any year.
The recommendations therefore seek to increase the availability of Better Access at "both ends" of a spectrum of care, as shown in the figure below: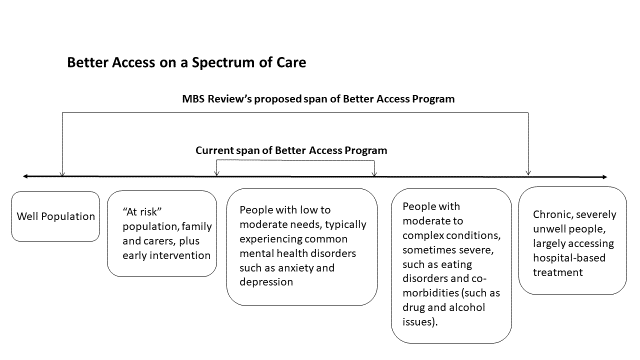 While purporting to shift from a "one size fits all" approach, the Reference Group seems to have chosen instead to simply make more of the one size available to considerably more people. Their service model focuses on an individual client attending the offices of an individual health professional. Medicare reimburses the health professional on a fee-for-service basis, with typically some additional out-of-pocket cost also payable by individuals to their treating professional. In 2016–17, the average out-of-pocket cost per session with a registered psychologist was $27, and with a clinical psychologist it was $32.
These additional out-of-pocket costs could have a significant impact on some of the more severe groups targeted by the MBS Review, given they may also be least likely to afford care. And more generally, the "right" number of sessions is very much a matter for debate. There is evidence indicating that therapy of brief duration but higher intensity (frequency) is more likely to be effective than therapy spread over a longer period.
Alternative approaches
The MBS Review group, mostly comprised of psychologists already operating under Medicare, surprisingly failed to emphasise alternatives to fee-for-service. In relation to people with more complex or severe problems, mental health care is optimally organised through a multidisciplinary team, comprising, for example, a psychiatrist, a psychologist, a GP, a mental health nurse, a social worker, a peer worker, an employment support worker, a housing officer and others. This fact, and together with the inability of fee-for-service to generate this kind of teamwork, has already been acknowledged by the Department of Health.
At the other end of the spectrum of care, the MBS Review strangely ignores compelling evidence to support application of proven approaches to helping people with low intensity needs. Parts of Australia have already adopted a model focusing on the role of coaches, first developed in the United Kingdom.
Also ignored is the strong evidence indicating that online therapies can be effective either as an adjunct to, or instead of, face-to-face professional care. While they vary, these online approaches commonly present a course of psychological therapy, structured so the participant can track their progress over time and seek further assistance if their situation deteriorates. They can be critical for reaching traditionally underserviced groups, such as young people.
Example of online psychological therapy – e-couch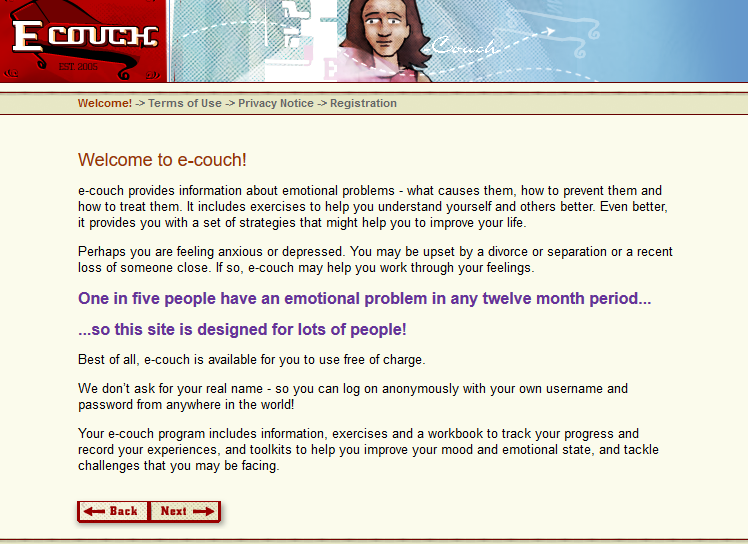 Some key advantages of the online approach include:
the person can undertake therapy in privacy, at home;
24/7 availability;
no fees;
the person can dictate pace of sessions; and
therapy does not depend on access to a health professional nearby — vital in rural areas.
Conclusion
Mental health represents 12% of the burden of disease but garners just 7.7% of health budget — this is 0.5% higher than in 1992–93 when the first National Mental Health Strategy was released. There is no doubt the area is much underfunded.
The National Mental Health Commission in its 2014 review suggested Australia's mental health system, including the Better Access Program, was not fit-for-purpose. The MBS Review into mental health represents a colossal opportunity to get future investments right, to shift the focus from access to quality and what works. Online and team-based approaches are key to driving new models of quality mental health care. By contrast, the MBS Review recommends a massive 21st century investment in a 20th century model of fee-for-service care. We can do better.
Dr Sebastian Rosenberg, is Senior Lecturer at the Brain and Mind Centre, University of Sydney and Fellow at the Centre for Mental Health Research, Australian National University.
Professor Ian Hickie is Co-Director at the Brain and Mind Centre, University of Sydney.
The statements or opinions expressed in this article reflect the views of the authors and do not represent the official policy of the AMA, the MJA or InSight+ unless that is so stated.