Reform, not resilience, is the key to changing the narrative and culture of the medical profession and will save doctors' lives, write Dr Emma Hodge and Dr Elise Witter.
The rampant prevalence of poor mental health of doctors in training is a silent epidemic within the health care sector.
The studies show we are more likely to be anxious, depressed and report higher than average levels of distress compared with other doctors or the general population.
Most shockingly, despite having lower all-cause mortality compared with the general population, doctors die by suicide at two to four times the rate of the general population, and have one of the highest rates among professional groups.
The medical workforce holds the particularly dubious honour of female doctors dying by suicide at twice the rate of male doctors, in contrast to a national trend of increased completed suicides in men.
In addition to women, doctors of minority background and doctors in training are particularly vulnerable to distress, poor mental health, and suicide.
Sadly, this is an issue not solely for the medical profession. Nurses also endure lengthy hours and poor working environments, with moderate to high levels of psychological distress seen across a wide range of health care workers since the coronavirus disease 2019 (COVID-19) pandemic.
If this were seen in other occupations, there would likely be a national inquiry. These are damning statistics speak to the problematic culture and weight of stigma and shame surrounding mental illness within our medical workforce.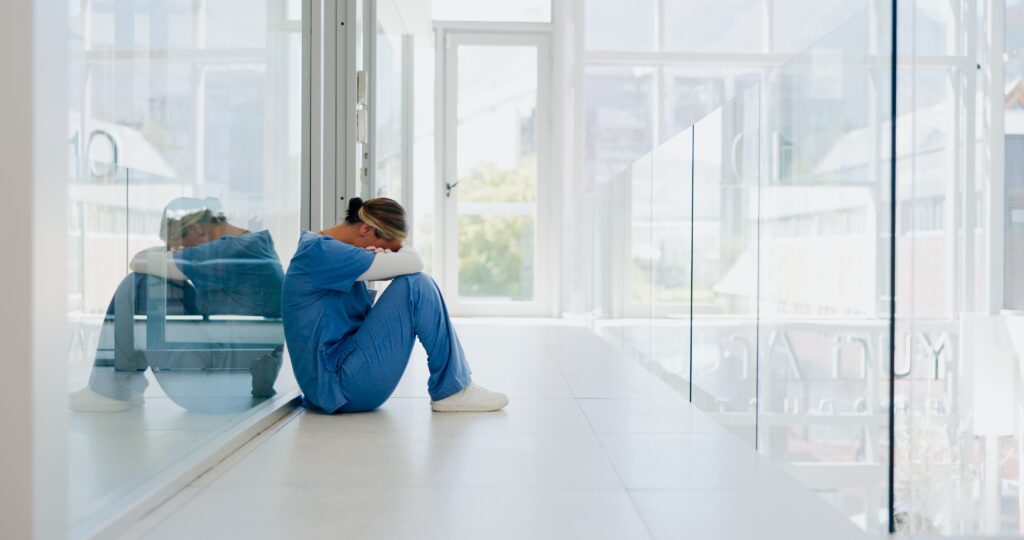 The individual and institutional responses
These statistics have sparked an individual and institutional response that tends to adopt one of three perspectives.
Firstly, the "back in my day" narrative, insisting doctors these days should be grateful for working only 20 hours of overtime instead of the 40–50 hours of overtime expected earlier in their careers.
This is further compounded by limited recognition of the increasing bottleneck for prevocational doctors aiming to be accepted into specialty training, with now far greater competition and resulting pressure to commit to additional study or extracurricular roles on top of already exhausting full-time jobs.
Most doctors in training would be familiar with this attitude. It is perpetuated in everyday practice by assertions by some senior clinicians that they should not claim overtime as this labels them inefficient and a culture of "teaching by humiliation" that begins in medical school and continues throughout their training, accompanied by anecdotes of how much harder it used to be. Instead, younger doctors are often expected to count their blessings for the progress that has been made, despite reports that bullying by medical colleagues, patients and nurses and perceived workload have actually increased in recent years. As if somehow doctors are superhuman and despite committing our lives to improving the health of others, our own health is a more trivial matter.
There are also nascent attempts to foster greater wellbeing, with online modules which aim to de-mystify and normalise occupational stress and fatigue and wellbeing action plans that exist on paper but are yet to translate into practice. Although health services are to be applauded for an increased recognition of the importance of employee wellbeing and efforts in this space, the myopic focus on individuals limits the impact of these well intended initiatives.
Of course, there is also the resilience narrative. The idea that doctors of today must simply embark on more yoga and mindfulness practice, foster their resilience, and will thereby be able to overcome any number of challenges thrown their way. And that doctors who eschew complaint must just have greater perseverance and tolerance for hard work.
This is a particularly insidious narrative. It erroneously implies wellbeing is entirely dependent on ample coping strategies and those doctors who struggle to cope with the demands of working in health care are simply not resilient enough. The implicit conclusion is that a sufficient level of resilience will inure one to all challenges, and that those we have lost to suicide or who succumb to mental illness must therefore have some kind of deficit that rendered them vulnerable, weak, unable to cope, deficient in the aptitude and fortitude required to become a doctor.
The resilience myth
Despite the pervasiveness of this blame game, several studies reveal the resilience myth is empathically false and likely perpetuated by a government attempting to improve health care with a dearth of resources. Even the most resilient doctors are not immune to burnout. The factors which contribute to the greatest to physician burnout and poor mental health are not individual but institutional – excessive workload and fatigue, inadequate resourcing, moral injury, bullying and harassment, limited career control, and endless banal administrative tasks detracting from patient care.
Self-care can provide some protection, but it is largely inadequate to confront the challenges of working within the health care sector, such as the daily confrontation with trauma, whether it is the brutal death of a patient in a resuscitation bay in the emergency department or the slow decline of a young person with terminal cancer. There is the expectation that one will stare down death, despair and distress every day, be expected to deliver more care with less resources, and work more than 12 hours per day at the expense of their own basic needs, relationships and aspirations, yet somehow overcome this with a free coffee or yoga session. It is a convenient deceit to consider individuals entirely responsible for their own wellbeing; it mitigates any critical problem solving or investment from organisations to change the untenable status quo.
With sustained advocacy, however, there has been increased recognition that these systemic factors have a greater role to play in shaping the wellbeing and sustainability of the workforce. The new National Occupational Health and Safety Code of Practice (2022) identifies that workplaces are responsible for managing the psychosocial hazards of their employees. In Queensland, the Hospital and Health Boards Act 2011 was amended in early 2023 to provide a rigorous legislative framework holding employees responsible for the psychosocial wellbeing of their employees. Along with South Australia, Queensland is one of only two states to enshrine this change into law. We applaud this first step towards improving the health care workforce experience and welcome this implementation across all states in Australia.
Critically, this now places the onus of supporting wellbeing onto the hospital and health services in these states. While we hope systemic changes in the health care working environment will ensue, only time will tell how this crucial opportunity will unfold. The recognition that systems factors have an essential role in employee wellbeing is an important first step; however, a nationally consistent approach with legislative change across the country is urgently required to support systems change.
Taking real action
The Committee of Doctors in Training have identified a series of key action areas, both immediate and long term, that could be implemented to improve the wellbeing of doctors in training. These range from simple environmental factors such as better lighting and security guard support when accessing ones' parked car after night shift, to greater flexibility and improvements in rostering practices that reflect occupational health and safety principles.
Consultation of the workforce with positions in governance and leadership committees, more rigorous and transparent responses to bullying and harassment, and implementation of dedicated wellbeing champions and specialist mental health clinicians within the service are further suggestions proposed to improve employee wellbeing.
Recognising the prevalence of stress and burnout among doctors is also vital, with accompanying collegial support and avenues for support. This is exemplified through the Regional Medical Pathway, which offers a novel approach to wellbeing, with workforce nurturing central to the end-to-end training program, including the first medical education and wellbeing position in Queensland which has enabled integration of evidence-based wellbeing support into the clinical environment.
Such changes will likely benefit the entire health workforce, who are subject to similar stressors and challenges in the workplace. Reform, not resilience, is the key to changing the narrative, culture and adverse mental health outcomes for doctors.
Dr Emma Hodge is a Medical Education and Wellbeing Principal House Officer at Wide Bay Hospital and Health Service.
Dr Elise Witter is Psychiatry Registrar at Cairns Base Hospital and Health Service.
The statements or opinions expressed in this article reflect the views of the authors and do not necessarily represent the official policy of the AMA, the MJA or InSight+ unless so stated. 
Subscribe to the free InSight+ weekly newsletter here. It is available to all readers, not just registered medical practitioners. 
If you would like to submit an article for consideration, send a Word version to mjainsight-editor@ampco.com.au.