MY father finally gave in to very bad osteoarthritis in 2017 and had bilateral knee replacements. His surgery was complicated by a severe post-operative delirium, manifesting as extreme paranoia, which unfortunately he remembers very clearly.
It was a terrifying experience, and I remember thinking at the time how glad I was that he had both knees replaced at the same time, because there would have been little chance of him agreeing to go through another operation after his experience. In the longer term, the operation was successful and Dad had a new-found freedom, which allowed him to go walking with his neighbour, play bowls, renovate his house and even go back to work as a plumber at the age of 77 years.
Fast forward 18 months, and something was not right. Dad was losing weight and feeling awful, although reluctant, as always, to admit it. After some time, it became clear that one of his knee prostheses was infected.
Never particularly engaged with his own health care, Dad was guided by his doctors and his sons (me, an intensive care specialist, and my brother, a physiotherapist) as to the best way forward. Faced with the prospect of having the prosthetic joint replaced in two stages and knowing how scared he was of the delirium that had plagued him previously, we decided to try to manage the infection conservatively — a joint washout and joint liner change (a much smaller procedure) and long term suppressive antibiotics.
After his joint washout, pleasingly with only a mild and short-lived delirium, he was almost immediately feeling and looking better. He had a peripherally inserted central catheter for home intravenous antibiotics and was preparing for discharge.
However, in the context of thromboprophylaxis, he had some melaena, prompting an endoscopy that discovered a gastric cancer, and our health care journey took an unexpected turn. Computed tomography and positron emission tomography scans indicated both locally invasive and nodal disease, and one of the many doctors involved explained, compassionately, that this was not likely to be curable.
After the shock and sadness settled, I talked with Dad about what he wanted from the rest of his life, however long that might be, and what he wanted to avoid. I was surprised at how open he was discussing this, having previously been a reluctant participant in such conversations.
He understood that the cancer was not curable, and he reflected on the life that he had had with pride and gratitude. He knew he would leave behind a happy and fortunate family, including two sons and three granddaughters, and hundreds of friends and family, who were all the better for knowing him. In his own words, he wasn't afraid of dying.
More than anything, what he did fear was a lingering death, and wanted to avoid "fighting" for a bit more time. With the knee infection under control he felt well again, and he didn't want to risk that by trying treatment that might have side effects (he had recently watched a close friend experience side effects from chemotherapy). Having always hated hospitals, he wanted to avoid them and spend as much time at home as possible. He wanted to spend time with his granddaughters, but only if he didn't look unwell (he didn't want them to remember him as a sick person). True to the way he had lived his life, he didn't want to have to rely on other people if he could avoid it (despite the myriad people who would have gladly helped), and he didn't want "fuss". Among the tears, there were jokes, much more in line with how Dad typically handles adversity. The discussions we had were cathartic, enlightening and even calming for us both.
I joined Dad for appointments with specialists to make a plan for his treatment. I was surprised to hear a range of doctors recommending chemotherapy to him; treatment they said would increase his life expectancy from about 6 months to about 10 months. They did this without first asking Dad any questions about what was important to him. I wondered "on what basis are you making that recommendation for my Dad?"
Perhaps it was going to give him the longest life, perhaps it is what most patients in this situation choose, perhaps it is what those doctors would have chosen for themselves. It was clear to me, however, that it wasn't good advice for my Dad. Chemotherapy was, in fact, likely to produce what he wanted to avoid: trips to the hospital, the possibility of feeling sick, looking unwell to his grandkids, lengthening the dying process, relying on other people to bring him to hospital for treatment, and causing a fuss. All for the sake of delaying something that he didn't fear, something that he was remarkably prepared for.
I was able to support Dad to resist the momentum towards chemotherapy, and when we left the oncologist, he told me it felt like a weight was lifted off his shoulders. He could get back to enjoying his life again, even if only for a short time.
Dad had a terrific experience with his health care. He worshipped the nurses who cared for him, and he liked and respected all of his doctors. He would have done whatever they said was best for him. Sadly, I have no doubt that had I not been present to share what I knew about his wishes, Dad would be having chemotherapy right now. And that would not have been consistent with how he has lived his life, nor how he wants to live the rest of it.
Had Dad been asked a few simple questions before advice was given, it would have been clear that chemotherapy was not a way of meeting his goals.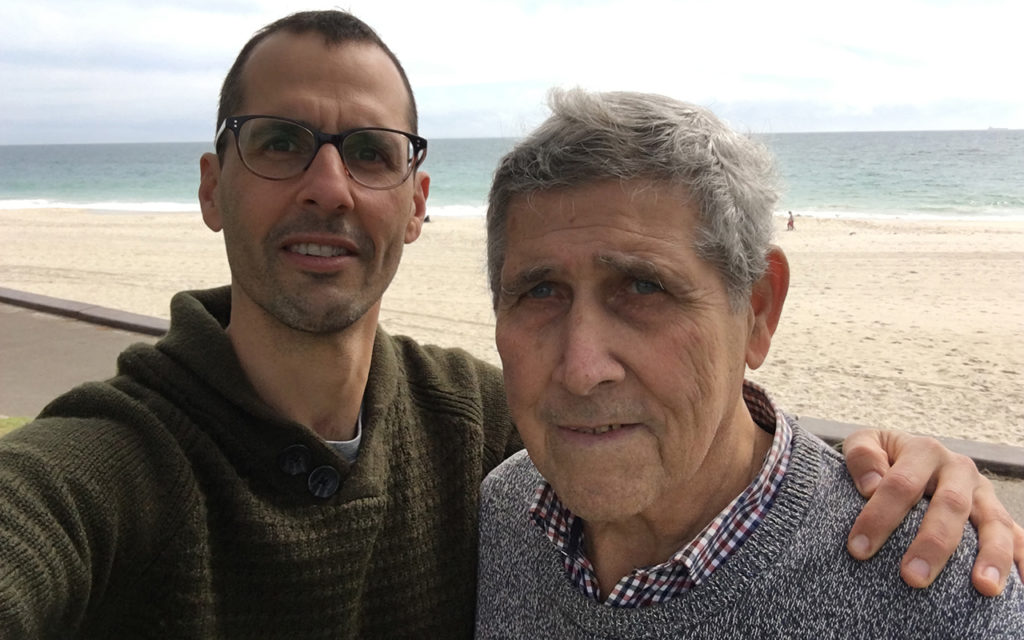 Dad lived for 6 more months. He socialised every day with his vast circle of friends, spent quality time with his family, and played with his grandchildren. He had only one short admission to hospital for a blood transfusion. He died at home. He knew how he wanted to live his last months, but his doctors could not have known.
If we are going to give our patients advice, and I believe we should, then we must tailor that advice to the values of the particular patient. In some circumstances, this will mean advising against treatments that might prolong life.
I have long been an advocate for shared decision making, and the experience with Dad's care has highlighted its importance. Before helping patients make plans for their treatment, we must ask the questions that were so revealing to me in my discussions with Dad: "what is important to you now?", "what do you want to do with the time you have left?", "what do you want to avoid?"
The answers might just change our advice.
Dr Steve Philpot is an intensive care specialist at Cabrini Hospital in Melbourne, with a special interest in end-of-life care, organ and tissue donation, communication skills training and empathy in the workplace.
The statements or opinions expressed in this article reflect the views of the authors and do not represent the official policy of the AMA, the MJA or InSight+ unless so stated.