As dry eye disease can be progressive and chronic, early intervention to break the cycle of eye dryness and inflammation is important for patients' quality of life and mental wellbeing.
Health-related quality of life (HR-QOL) is a multifactorial approach to measuring the physical, mental, social and emotional impact of disease state. Dry eye disease can present with a wide range of impact on a patient; from occasional symptoms when using a digital device, to symptoms that have a life-impeding and debilitating effect.
A large population-based study in 2023 showed for the first time the link between dry eye disease and HR-QOL (here). HR-QOL was measured using the 36-item Short Form Survey (SF36) questionnaire, which aggregates scores of different functions (such as physical and social functioning) into two summary scores: the Physical Component Summary and the Mental Component Summary. Previous studies were limited by small sample size or the effect of other contributing factors such as age, sex and comorbidities. This study took these factors into account and found that compared with patients with rheumatoid arthritis, chronic obstructive pulmonary disease, and migraine, for example, highly symptomatic dry eye subjects have much greater risks of low mental quality of life (here). The study also found highly symptomatic dry eye disease showed the highest risk of low HR-QOL (here) compared with other eye conditions such as allergic conjunctivitis, glaucoma, macular degeneration and retinal detachment. This study, therefore, clearly shows that dry eye is a serious disease with a severe impact on both physical and mental quality of life, and stresses that timely referral, diagnosis and treatment of patients with dry eye is essential.
So, what practical steps can be taken in general practice to help patients with dry eye symptoms?
First, it is important to identify patients at risk. In addition to older age, female sex and Asian ethnicity, other patients commonly seen in general practice are also at risk of secondary dry eye: patients prescribed medication such as antihistamines, antidepressants and isotretinoin; patients with diabetes; those instilling topical glaucoma therapies; and patients after ocular surgery are all potentially at higher risk for secondary dry eye (here).
Second, an approach to management which considers the severity and the type of dry eye should be undertaken. The Tear Film and Ocular Surface Society (TFOS) developed a four-step approach to the management of dry eye as part of the Dry Eye Workshop II (here). The Management and Therapy Committee concluded that lubricating eye drops are the mainstay of dry eye management (here) and this simple option can be recommended in isolation or concurrently with additional therapies. One family of lubricating eye drops is the Systane® range of lubricating eye drops from Alcon. For some people with dry eyes, particularly frequent users of eye drops or those using multiple eye drops, a preservative-free option for ocular lubricants is an important consideration. Following the launch of Systane® HYDRATION PRESERVATIVE-FREE lubricant eye drops, there are now three multi-dose preservative-free options available: Systane® COMPLETE lubricant eye drops, Systane® ULTRA lubricant eye drops and Systane® HYDRATION lubricant eye drops. All three drops utilise the unique technology of HP-Guar and borate, which crosslink upon instillation to form a viscoelastic meshwork. This meshwork forms a bandage over the ocular surface, preferentially binding to damaged areas of the cornea and increasing retention of the demulcents in the drop for extended protection and lubrication (here and (here).
Systane® COMPLETE combines this gelling technology with lipid nanodroplets to support all layers of the tear film and relieve the symptoms of all types of dry eye (aqueous deficient, evaporative and mixed dry eye) (here, here and here). This is particularly important as deficiencies in the lipid layer due to meibomian gland dysfunction is common across the majority of people with dry eye conditions (here). People who experience deficiency in the muco-aqueous layer alone comprise a significantly smaller cohort (here). This makes Systane® COMPLETE a straightforward option if the type of dry eye has not been identified.
However, for patients with more moderate to severe dry eye symptoms, or patients before or after ocular surgery, the combination of HP-Guar/borate with hyaluronic acid* (HA) could be considered as first choice.†
Systane® HYDRATION has been investigated in numerous studies: it has been shown to support healing of the damaged ocular surface, assisting cell viability, and regeneration (here and here).The combination of HA and HP-guar/borate resulted in greater and faster wound healing (measured in re-epithelialisation) compared with HA alone in a laboratory study (here). The investigators looked at the effect on re-epithelialisation of a corneal debridement wound following topical ocular administration of six different lubricating eye drops in mice. Following debridement, test solutions were administered every two hours for a total of four administrations. To evaluate the number of re-epithelialised corneas in each treatment group, the corneas were stained with sodium fluorescein 24 hours after debridement. The stained corneas were imaged and analysed to calculate the total damaged area still visible. The difference in the number of negatively staining corneas was statistically significant between Systane® HYDRATION versus the other drops, including drops containing HA alone (here).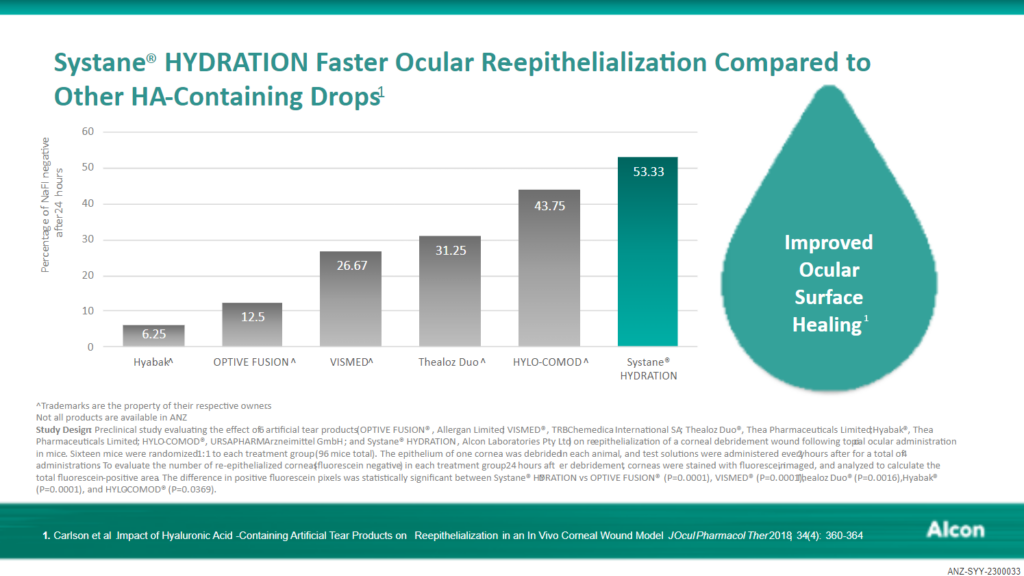 A novel multi-dose preservative-free bottle is utilised for both Systane® COMPLETE PRESERVATIVE-FREE and Systane® HYDRATION PRESERVATIVE-FREE. This bottle features patented PureFlow® Technology, which is comprised of a one-way valve to ensure no contaminated liquid can be re-introduced into the container and a fine silicone membrane to filter returned air. The bottle has a low squeeze force and features a blue tip to aid targeting of the eye for ease of installation (here).
Third, timely referral is essential. If lubricating eye drops are to have an effect, they should be used regularly, multiple times per day for at least a month (here). After that time, if symptoms are not improved, it is unlikely continued use will improve symptoms significantly and alternative management strategies are required, either through recommendation of the general practitioner or via a referral pathway (here). Over-the-counter hot compresses, oral omega-3 supplements and topical therapeutic intervention are all recommendations from TFOS DEWS II (here). Eye care professionals such as optometrists are well equipped to diagnose and manage dry eye as they have access to the slit-lamp biomicroscope, dyes to show ocular surface disease and, in some cases, more advanced equipment which image the tear film and meibomian glands.
As dry eye disease can be progressive and chronic (here), early intervention to break the viscous cycle of eye dryness and inflammation is important for patients' HR-QOL and mental wellbeing (here). Long term management and, when needed, partnership between health care practitioners such as optometrists, are important steps in supporting the quality of life of people with dry eye conditions.
* Systane Hydration lubricant eye drops contain sodium hyaluronate, the salt form of hyaluronic acid.
† Recommendation based upon expected on-eye viscosity.
Helen Gleave is an optometrist and the Senior Professional Education and Development Manager at Alcon Visioncare.
Disclosure: This article was sponsored by Alcon Laboratories Pty Ltd. Helen Gleave is employed by Alcon.
©2023 Alcon Laboratories (Australia) Pty Ltd: 1800 224 153 Auckland NZ: 0800 101 106
ANZ-SYY-2300064