Adjunct Professor Janine Mohamad is the Victorian recipient of the Australian of the Year award for 2024, recognising her contribution to the Aboriginal and Torres Strait Islander health sector.
Adjunct Professor Janine Mohamad has been awarded the Victorian Australian of the year award for 2024 at a ceremony held in Melbourne.
A Narungga Kaurna woman, Adjunct Professor Mohamad has worked for over 20 years in the Aboriginal and Torres Strait Islander health sector through nursing, management, project management, research, workforce and health policy.
Many of these years were spent in the Aboriginal community-controlled health sector at state, national and international levels.
Since 2019, she has been the CEO of the Lowitja Institute — Australia's National Institute for Aboriginal and Torres Strait Islander Health Research.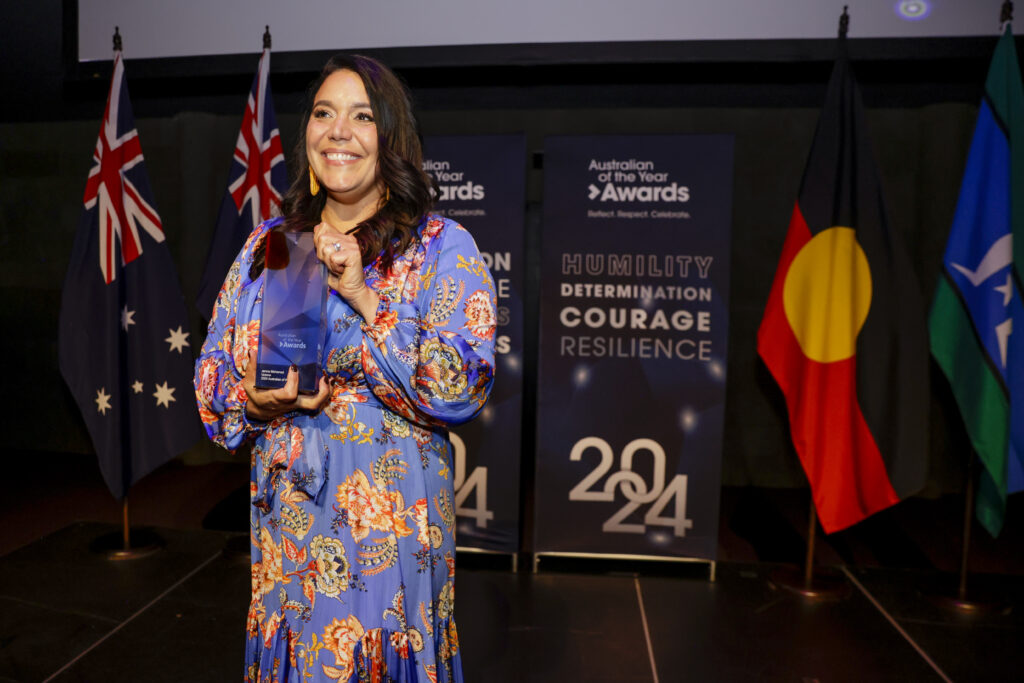 Prior to her role with Lowitja, she was the CEO of the Congress of Aboriginal and Torres Strait Islander Nurses and Midwives, and has also worked with the Aboriginal Health Council of South Australia (AHCSA) and the National Aboriginal Community Controlled Health Organisation (NACCHO).
She is a regular spokesperson on key topics in Aboriginal and Torres Strait Islander health, such as cultural safety, the social and cultural determinants of health, workforce and Indigenous data sovereignty.
In a brief interview with journalist Jacinta Parsons when accepting her award, Adjunct Professor Mohamad said she was inspired to pursue her work by her family and community, in particular her Nana's experience with a chronic mental health condition.
"I saw the amazing work of health care professionals, but I also saw the devastating work … and the missed opportunities," she said.
She said her work has given her the opportunity to talk about Blak excellence, but also about tougher subjects such as the need to eradicate racism.
"(Racism) steals us of the amazing opportunity to value and celebrate 60 000 years of the world's oldest living, continuous culture," she said.
"We have to understand what racism looks like, feels like, and what it produces to be able to envision a different future.
"For me, an amazing future would be that everyone is practising cultural safety and antiracism and you don't even know it — it's a part of your everyday life."
MJA Editor-in-Chief, Professor Virginia Barbour, congratulated Adjunct Professor Mohamed on her award.
"On behalf of the MJA, I extend warm congratulations to Adjunct Professor Janine Mohamed for being selected as Victoria's Australian of the Year," Professor Barbour said.
"Adjunct Professor Mohamed and her team at the Lowitja Institute are inspirational champions of research excellence into Aboriginal and Torres Strait Islander health and wellbeing.
"The MJA welcomes the recognition of Adjunct Professor Mohamed. We look forward to continuing to work closely with the Lowitja Institute to amplify research into Aboriginal health and promote better health outcomes for Australia's First Nations people."
Adjunct Professor Mohamed and the other Victorian recipients will join those from the other states and territories for the national awards to be announced on 25 January 2024.
Subscribe to the free InSight+ weekly newsletter here. It is available to all readers, not just registered medical practitioners.