The Australian Government is undertaking a raft of measures to improve the wellbeing of young people, but new research shows that a lot more needs to be done to turn around the worrying trends.
When we think of today's younger generations – Gen Z or the newly coined Alphas – it's easy to picture confident, tech-savvy, digital natives, ready to take on the world (here). But scratch the surface and this façade fades, as new research shows that children today are less happy, less optimistic, and less satisfied with their lives than the generation before.
In our wellbeing study of more than 56,000 South Australian school children (aged 9-14 years) we found that children's wellbeing has gradually been declining over the past six years, with a steeper drop in 2020, aligned with the coronavirus disease 2019 (COVID-19) pandemic. This worsening has been consistent across all the aspects of wellbeing – life satisfaction, optimism, happiness, cognitive engagement, emotional regulation, perseverance, worry, and sadness.
It's a concerning finding, particularly given that poor wellbeing in childhood often translates into poor wellbeing in adulthood. As mental health is at the heart of wellbeing in individuals, families, and communities, any downward trend in childhood could have devastating outcomes for the child themselves, and also society at large.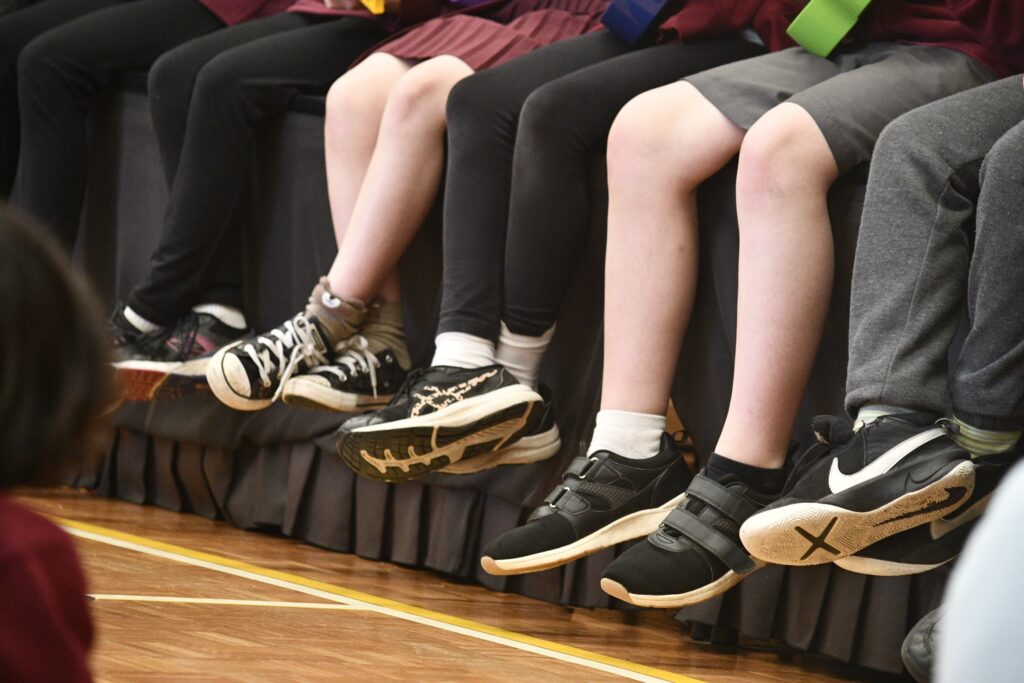 Underlying factors: more than just the pandemic
While a COVID-19-related decline in wellbeing is hardly surprising, what is of concern is the absence of a "wellbeing rebound" in the following years. By early 2022, when most pandemic restrictions had lifted, children's wellbeing rates remained low, and to date, still show little sign of recovery. Such a lack of change seems to indicate that either the pandemic has had lingering negative effects on young people, and/or reflects a wider societal phenomenon.
Beyond the pandemic, various other factors could be contributing to this persistent decline. First, lifestyle changes exacerbated by the pandemic may have had a noticeable impact. Pre-existing trends, such as increased screen time and reduced physical activity, have accelerated throughout the pandemic, and these have been accompanied by a concerning rise in obesity levels among children. Additional screen time is then offset by less outdoor time and socialising with friends which, when compounded, can significantly affect a child's engagement and connection with the world.
Second, several socioeconomic factors might be at play. Other child-level outcome data have identified negative trends in South Australia [here and here], including an increasing proportion of children being notified into child protection services, an increasing prevalence of child developmental vulnerabilities, an increasing proportion of children with a diagnosed disability, and that proportionally more children are living in disadvantaged socio-economic circumstances. And these factors not only exacerbate children's poor wellbeing but also signal a society under stress.
Third, there is increasing evidence of 'eco-anxiety' among children in both Australian and overseas. The growing awareness of the climate change crisis is creating increased levels of depression, anxiety, and extreme emotions such as sadness, anger, and fear (here and here).
Collectively, these factors suggest that a decline in children's wellbeing is a complex issue and influenced by a range of interconnected variables.
Vulnerable subgroups: a closer look
When we delved into specific subgroups within the child population, our data revealed a more nuanced landscape: the decline in wellbeing is not evenly distributed but pronounced among certain groups. For example, girls have shown a more significant drop in wellbeing scores compared to boys [up to 14% difference]. This divergence could be indicative of gender-specific stressors or societal expectations that disproportionately affect girls.
Additionally, older children – both boys and girls – within the study showed a more marked decline in wellbeing [up to 10% difference]. This trend is especially concerning given that adolescence is a critical period for mental and emotional development. A decline in wellbeing during these formative years could have long-lasting effects that extend into adulthood.
Lastly, the data also highlights disparities based on socioeconomic status. Children from lower socioeconomic backgrounds are experiencing a more significant decline in wellbeing compared to those from more privileged backgrounds [up to 11% difference]. This trend aligns with a broad body of research that links socioeconomic factors to a range of health outcomes, including emotional and psychological wellbeing (here and here).
What is being done?
The Australian Government, in its 2022-23 Budget, declared improving the wellbeing of young Australians a priority (here). In the Budget, it allocated $391.7 million to "provide accessible and effective mental health treatment services", including:
increasing the number of headspace services to 164 by 2025-26
expanding the Medical Benefits Schedule Better Access initiative to make an additional ten sessions available to all Australians, and
introducing the first dedicated Medicare services for patients with eating disorders and funding the Wandi Nerida residential eating disorder treatment centre on the Sunshine Coast, with six additional centres around Australia to commence operations in 2023–24.
The Government also announced specific measures to help young people recover from the pandemic, including funding for the headspace Schools Suicide Prevention Activities Program and Flying headspace.
It also committed to developing new prescribing guidelines for the safe use of antidepressants in young people and children, among several other announcements (here).
In addition, the South Australian Minister for Education, Training and Skills announced a $50 million investment for 100 FTE mental health and learning support specialists for SA schools, including 55 FTE (psychologists, occupational therapists, social workers) for a new School Mental Health Service (here). The service aims to intervene early to support young people's psychological health and emotional wellbeing.
We welcome these initiatives, but also recognise the complexity of tackling this problem.
A multi-faceted approach: the way forward
Addressing the decline in children's wellbeing in Australia is a complex challenge that requires a multi-agency, multi-level approach. Good quality data and research is the cornerstone of effective intervention, which is why further research is crucial to help understand why wellbeing scores have not rebounded, and to help pinpoint which groups are most at risk.
Youth engagement is another vital component; we must include young people in the conversation, valuing their experiences, perspectives, and ideas for solutions. Inter-agency collaboration between the education and health sectors, bolstered by supportive government policies, is essential for a comprehensive approach to this pressing issue. Community involvement, including the active participation of families and community partners, rounds out a multi-faceted strategy needed for sustainable improvement in children's wellbeing.
General practitioners, paediatricians, psychologists and school counsellors are also at the frontline of this effort, playing a pivotal role in the early identification and management of wellbeing issues. They can incorporate wellbeing assessments into routine check-ups, perhaps using validated questionnaires to screen for emotional and psychological concerns. Educating parents about the signs of declining wellbeing and the importance of a balanced lifestyle is another key responsibility. When necessary, referrals to specialists like paediatric psychologists can provide more targeted treatment. Collaborative efforts with school counsellors and teachers can offer a more holistic view of a child's wellbeing, aiding in both diagnosis and ongoing care.
Beyond individual patient care, these medical professionals can advocate for community and school-based resources and engage in public health campaigns to raise awareness about the importance of children's emotional and psychological health. Staying updated on the latest research and participating in interdisciplinary seminars are crucial for medical professionals so they can continue to be advocates.
The decline in children's wellbeing is a multi-faceted issue that demands a coordinated, multi-disciplinary response.
The recently announced government funding is a step in the right direction, but we all have a role in reversing this troubling trend.
Indeed, Medical professionals, along with educators, policymakers, and the community at large, all must work to safeguard the wellbeing of our next generation.
Dr Dot Dumuid is a Senior Research Fellow at the University of South Australia and holds an Australian Research Council Discovery Early Career Award.
Professor Sally Brinkman is a Professor within Education Futures at the University of South Australia.
Professor Carol Maher is a Professor Carol Maher is a Professor of Population and Digital Health, and Medical Research Future Fund Investigator, at the University of South Australia.
We also acknowledge the other authors who worked on this research; Dr Jacinta Brinsley, Dr Ben Singh, Dr Rachel Curtis and Dr Rosa Virgara.
The statements or opinions expressed in this article reflect the views of the authors and do not necessarily represent the official policy of the AMA, the MJA or InSight+ unless so stated. 
Subscribe to the free InSight+ weekly newsletter here. It is available to all readers, not just registered medical practitioners. 
If you would like to submit an article for consideration, send a Word version to mjainsight-editor@ampco.com.au.