A new partnership will allow medical students to train on live emergency aeromedical evacuation flights in the Northern Territory – a service essential to rural and remote health care.
Sometimes it is just you keeping a critical patient alive.
Emergency aeromedical retrieval staff are highly trained professionals who are used to being on their own in a high stakes environment.
"I learned in an emergency department where, if you're in trouble, you can always hit the red button and people will come and assist," Amanda Quinn said, Nursing Director at CareFlight, Northern Operations.
"But here, sometimes it might just be you and a pilot."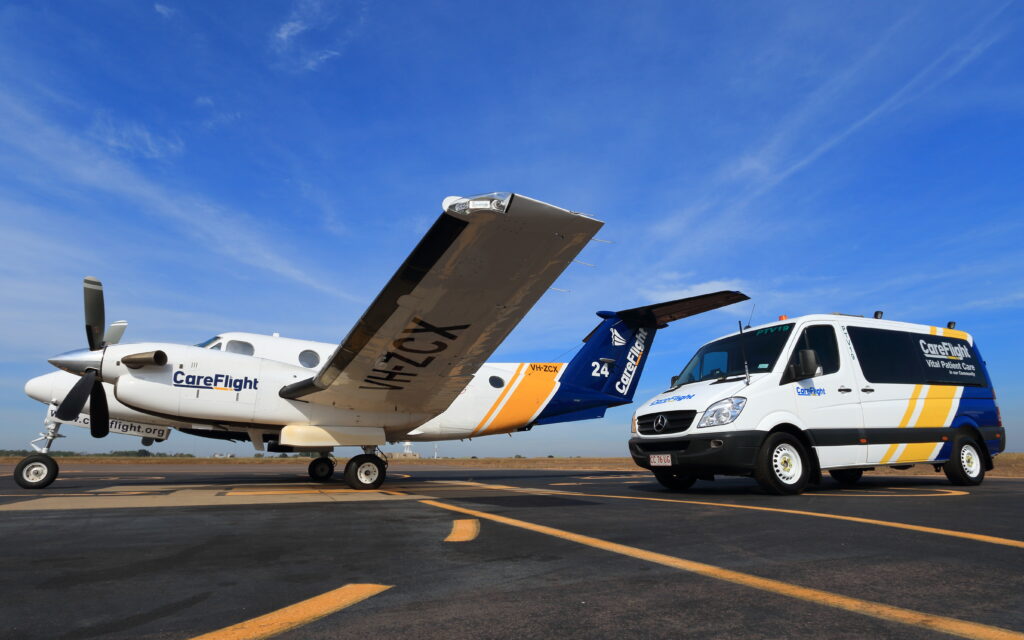 Health outcomes poor in rural and remote Australia
About 7 million of Australians (about 30%) live in rural and remote areas. People living in these areas have poorer health outcomes overall according to the Australian Institute of Health and Welfare (AIHW).
People living in rural and remote areas also have access to fewer primary, secondary and tertiary health services. Potentially preventable hospitalisations are twice as high as for those in metropolitan and regional areas.
A 2023 Royal Flying Doctor Service (RFDS) report found that Australians in rural and remote settings are at substantially higher risk of heart, stroke and vascular disease (accounting for a quarter of all RFDS missions), and the health services are not always there to support them (here).
The health and wellbeing of First Nations people, including cultural and language training, are also essential in rural and remote health care — although most Indigenous people live in metropolitan and regional areas, First Nations people make up a higher percentage of those living rurally and remotely (here).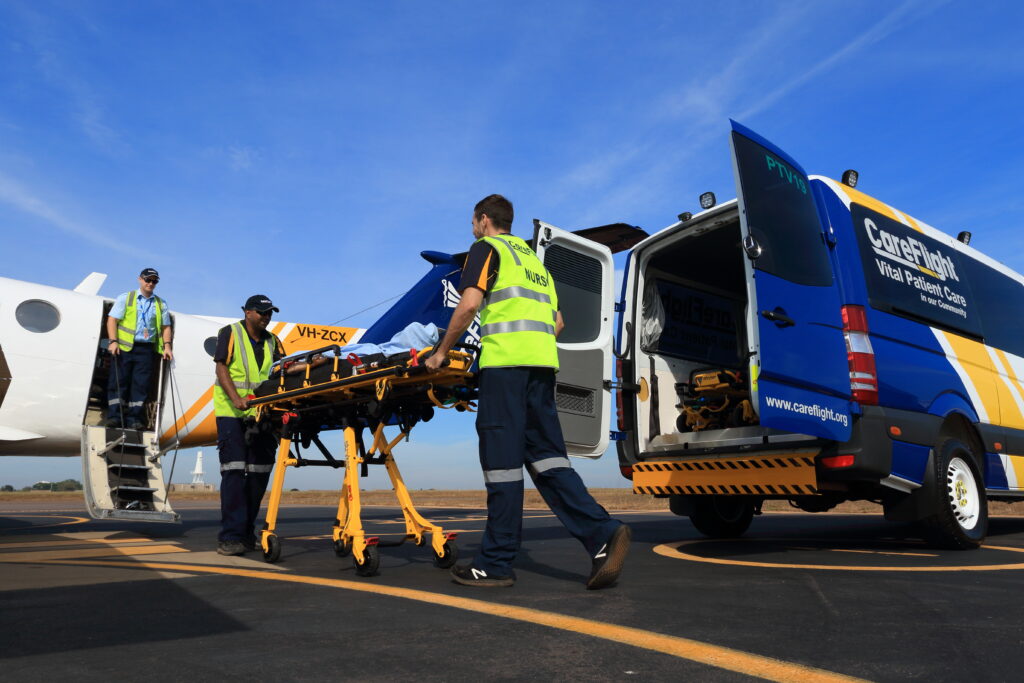 Emergency aeromedical services essential to remote patients
Emergency aeromedical retrieval services have a strong and proud history in Australia. The RFDS, which employs around 1500 staff, provides 35 000 aeromedical retrievals in remote and rural Australia each year.
CareFlight, a charity funded by the Northern Territory Government, has approximately 550 staff and ran missions for more than 9000 patients in 2022.
Although Ms Quinn said that CareFlight has a relatively stable staffing roster, remote health care organisations in general have considerable problems with staff turnover that need to be addressed.
Staffing turnover continues to be an issue in rural and remote regions
"In the NT, the biggest challenge is distance, and the austere environment," Ms Quinn said.
"But the big challenge that all rural and remote health care providers face is workforce turnover. The doctors and nurses do an amazing job, but [hospitals] are often quite short-staffed.
"For our community, it's lack of access to health care and specialist services."
Although new studies from Monash University and the University of Newcastle showed that students from a rural background were over four times more likely to have had rural placements than students from non-rural backgrounds, a linked study from the University of South Australia (UniSA) showed that more half of UniSA health graduates in rural settings had completed a rural placement during their studies.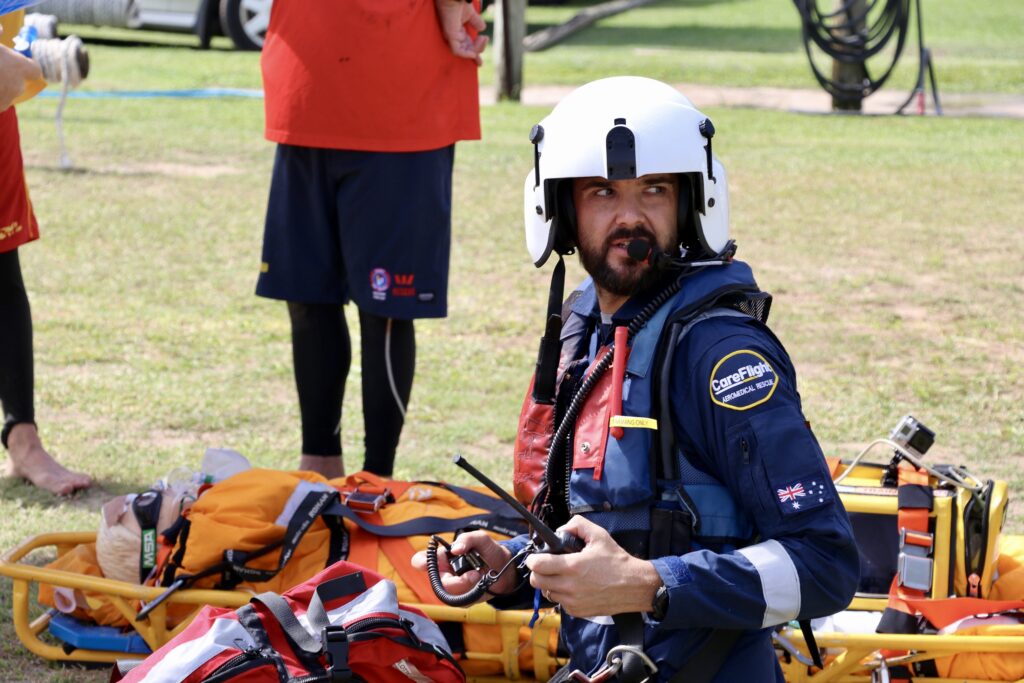 New partnership between Charles Darwin University and CareFlight
A new agreement between CareFlight and Charles Darwin University (CDU) will give health students the opportunity to work in the Top End with emergency aeromedical retrieval teams on flights.
The agreement creates clinical placements for future medical students at the CDU Menzies School of Medicine. The university will apply for 40 of 80 places in the Australian Government's $114.2 million Increasing Rural Medical Training Grant Opportunity to support the placements. The Commonwealth funding was welcomed by the Royal Australian College of General Practitioners.
Ms Quinn is excited about the CDU partnership.
"It is something we have wanted to do for years," Ms Quinn said. "It is really important for building our workforce for the future.
"Our patients are some of the most disadvantaged in Australia; they have complex medical problems and disease processes. Students will see what it's like to be an independent practitioner."
"It's not just the medicine – it's about logistics and making quick decisions," Ms Quinn said, who added it was a privilege to work in those remote locations.
"We service from Robinson River to the Tiwi Islands – border to border – with Beechcraft Super King Air 200 [planes], and two AW139 helicopters, providing upgrade specialist care, moving patients from remote communities to the Royal Darwin, Gove District, and Katherine Hospitals," Ms Quinn said.
"Our flight doctors are registrars either in emergency medicine, intensive care, or anaesthetics on a six-month rotation.
"Our flight nurses are the constant on the aircraft, and we're all critical care clinicians employed full time."
"For our core group of nurses who go down the wire and do rescue, we recently fundraised for a winch simulator so we can train."
Emergency aeromedical retrieval is the ultimate challenge in emergency health care, Ms Quinn said.
"Once you've done five years of critical care … this is the pinnacle of the job. It's a sought-after role," she said.
"But I'm biased, I think flight nursing is the best job in the world."
Subscribe to the free InSight+ weekly newsletter here. It is available to all readers, not just registered medical practitioners.