EARLY recognition of risk factors, comprehensive monitoring of COVID-19-positive patients, and timely administration of monoclonal antibodies are key to saving lives in the first few days of COVID-19 infection.
Experts from the Nepean Hospital in New South Wales told a large audience of GPs and other clinicians that any patient with obesity, any pregnant woman, or anyone with underlying health conditions, particularly those who are unvaccinated or not completely vaccinated, were at higher risk of severe COVID-19 if they became infected.
Adjunct Associate Professor James Branley, an infectious diseases physician and microbiologist currently heading the Department of Microbiology and Infectious Diseases at Nepean Hospital, was joined by Associate Professor Lucy Morgan, a respiratory physician at Concord and Nepean Hospitals, during an MJA webinar on 17 November. Both have extensive experience in the management of patients with severe COVID-19.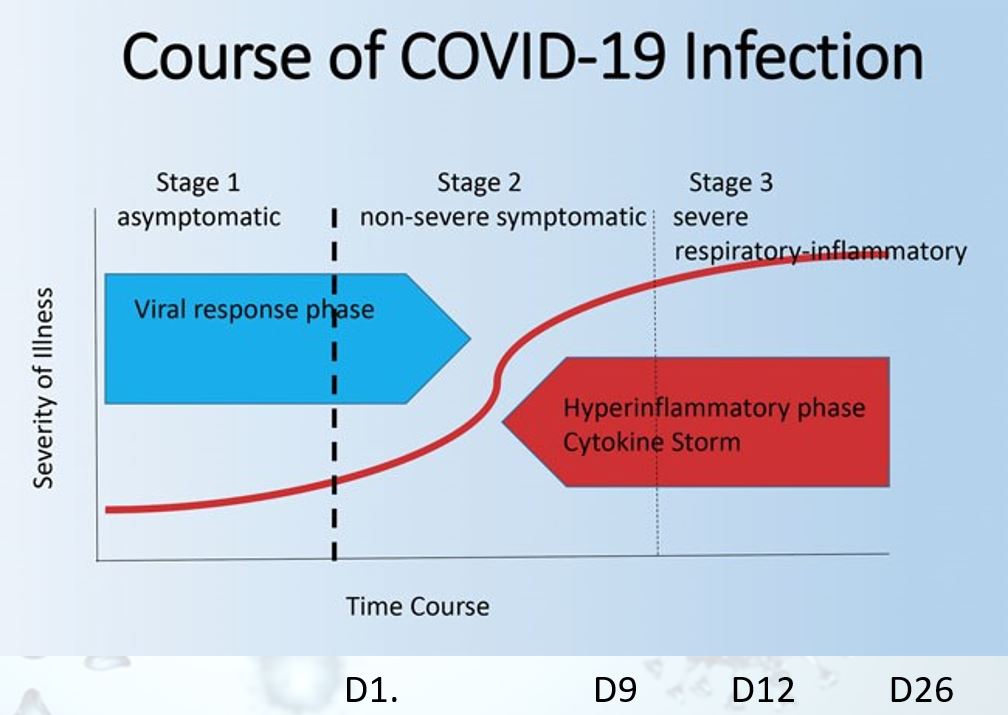 "In the past couple of years, when we've been treating COVID-19, we've really been focusing on the red section of this picture, which is the inflammatory response when people get sick and die and come into hospital," said Associate Professor Branley, whose Nepean team has already treated over 4500 COVID-19 cases.
"Hospitalised care is to the right of this slide. The first week of COVID-19 infection is really an area where we haven't been intervening very much.
"And we need to be intervening much more aggressively, with a lot better tools than we've had up to now. What we have to do is attack the virus earlier."
Associate Professor Branley said he and his team at Nepean Hospital had so far managed to deliver over 150 doses of the monoclonal antibody available now to patients early in their COVID-19 infection.
"Sotrovimab has shown between 79% and 85% reduction in hospitalisation and death – so quite spectacular figures," he said.
The challenge, according to Branley and Morgan, lies in early diagnosis, identifying patients who are at high risk of progressing to severe disease if untreated, and then getting that patient to a monoclonal antibody infusion clinic safely, and without risk to the public and clinic staff.
"Early intervention really poses some challenges," said Associate Professor Branley.
"One of the biggest challenges is early diagnosis and reducing delays in the information transfer between the laboratory and the clinicians who are treating the patient.
"We need to then get on and do a risk assessment. Put simplistically, anyone who's obese, anyone who's pregnant, anyone who's got a medical condition, they are at risk.
"We need to think about monitoring, particularly those high risk patients. The most important thing to monitor is their oxygen saturation."
Branley and Morgan told InSight+ in an exclusive podcast that any patient whose oxygen saturation numbers dropped below 94% should be hospitalised. Knowing at which point the patient should be hospitalised was key.
Associate Professor Morgan said the role of GPs in the monitoring of patients and in the persuasion of them to go to hospital was crucial.
"The GP has an incredibly important role as an ambassador or a conduit to help get patients to sotrovimab or similar as early as possible," she said.
"I contacted a patient who was identified as being in the early stages, suitable for infusion with a monoclonal antibody, but they didn't have a relationship with me. They didn't know me from a bar of soap. They just did not believe me.
"They rang their GP, their trusted clinician, who did know me and said, 'she's for real, she's not a fake doctor'. And we got the patient in."
Associate Professor Morgan said it was important for GPs to know which of their patients had risk factors for severe COVID-19, and to have the conversation with them about what to do if they became infected.
"Have a conversation, probably during the time of having a conversation about vaccination – 'if you're not completely vaccinated, and you catch COVID-19, make sure you tell me; because if you are incompletely vaccinated, you would be suitable to get this early treatment'.
"That kind of conversation could be incredibly important to getting patients access to sotrovimab or similar program.
"The other thing for the GPs to know is where is your closest infusion unit. Most of the big hospitals in New South Wales are able to give monoclonal antibodies and I think the same is true in Victoria."
Both Branley and Morgan said working on the frontline of the COVID-19 pandemic had had a "profound" effect on them.
"It's not often in our working lives where we face something that can potentially kill us, or that we can take home to our families," said Associate Professor Branley.
"That anxiety needs to be understood and worked through. Understanding [personal protective equipment (PPE)], and understanding that you don't catch this infection if you wear PPE properly, that's really important. I've seen people go from a very anxious state, to being very confident with this disease in a short space of time.
"The second thing to say is, when you get a surge, like we've just had, everyone works incredibly hard, you're doing 12–16 hour days, you're on edge all the time. But it is one of the most satisfying jobs in medicine, turning around people and getting them back out there is just fantastically satisfying."
Associate Professor Morgan said the experience had been the "most challenging and most rewarding" of her career to date.
"That idea of being in the trenches together, of camaraderie, knowing we are well trained, we know what we're doing, we can make a difference, and we're here for each other, looking out for each other," she said.
"Those are the sorts of things that get troops through battles. That's kept me going.
"I know it sounds glib, but remembering to kiss the ones you love, and to have some time out and to find some way of making sure you get enough sleep and a bit of exercise, that's been very important to me."
The 17 November webinar "How to save lives in the first few days of COVID-19 symptoms" and this article were sponsored by GlaxoSmithKline Australia Pty Ltd, through an unrestricted medical grant. Through this grant the events host, AMPCo, and its masthead, The Medical Journal of Australia, maintain complete editorial control over the agenda, speaker selection and content.