ABOUT 20 years ago, during one of the exacerbations of the at times heated debate about the legalisation of voluntary assisted dying (VAD), someone asked me if, as the then President of the Australian and New Zealand Society of Palliative Medicine (ANZSPM), I would be willing to participate in a discussion with an advocate for VAD. The presumption was that, because of my role, I was opposed to VAD.
Shortly prior to that request, I had observed a debate between an advocate of VAD and a specialist in palliative medicine. It was very unsettling because it left the unmistakable impression that palliative care was being marketed as the antidote to requests for euthanasia. From that day, I took the view that, regardless of their personal opinions, participants wearing the palliative care hat should not be protagonists in debates about VAD, and should only discuss what could and could not be expected from palliative care.
And again recently, I read an article in The Weekend Australian about palliative care clinicians opposing VAD. There was no mention that our beliefs are as diverse as those of the rest of the community, but I will come back to this later.
Like many of us who were involved in the creation of palliative care services across Australia, I was motivated by my personal experiences of the poor care that patients received as they died, the almost universal lack of training and skills in end-of-life care (me included), and the paltry resources devoted to palliative care.
Although for many years I have held the personal view that Australians should have the right to VAD, throughout my career I have taken a neutral public stance on the matter. I believe that as a clinician and director of a palliative care service, as a public servant involved in the promotion of palliative care and cancer services in our community generally, and as a leader in national organisations promoting the creation of the specialty of palliative medicine, my core role has been to promote the development of palliative care and the specialty of palliative medicine in the interests of patients and our community generally.
I also felt that it was important to promote in the community the understanding that VAD and palliative care are completely separate issues. If the two were conflated, patients, their families and the community could be confused and fearful that those working in palliative care services would also conflate the two roles in our own minds.
Some clinicians were concerned that they would be required to become involved in decisions about VAD. It was suggested that palliative care clinicians struggling with difficult clinical problems might be tempted (consciously or unconsciously) to decide that a problem was insurmountable and (consciously or unconsciously) steer their patient towards deciding for VAD.
Some people had tried to suggest (and still do) that palliative care has the goal of killing people. Others tried to set palliative care workers and proponents of VAD as adversaries. Neither is true.
When the Northern Territory's Rights of the Terminally Ill Act 1995 was in force, the NT Palliative Care Service decided that they would continue to provide the best quality palliative care that they could to all patients, whatever choices they might have made about VAD, and up until the moment that they died. It was a simple strategy that fulfilled the duty to care for patients while maintaining a separation of the two issues.
Palliative Care Australia recently released Voluntary Assisted Dying in Australia: guiding principles for those providing care to people living with a life-limiting illness. This new document expands on the position taken in the NT 20 years ago to address the contemporary context.
It is important to reassure clinicians that when they work within the accepted parameters of the practice of palliative care they are never providing euthanasia or assisted suicide. I describe the difference as a Venn diagram. Palliative care is in one domain and VAD in another. Unlike palliative care's interaction with, for example, pain management, the two circles do not intersect. Whatever their views on VAD, a clinician can practise across the whole of the field of palliative care without having any conflicts over whether they might be providing VAD. And if they engage in VAD they are doing so outside the domain of palliative care.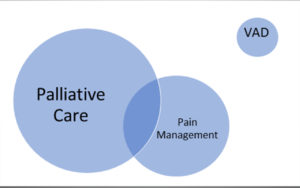 The health workers who deliver palliative care in our community are no different from the rest of the community in the spectrum of their beliefs about VAD. They range from full support for the right of individuals to control the time of their death through to vehement opposition. However, our median probably tends more towards opposition to VAD than in the population at large. This is perhaps because of the nature and beliefs of the people who are attracted to work in palliative care, their perception of the role of health workers, our need to validate the work that we do, and/or concerns of having to deal with requests for VAD that we do not see being a part of our role as providers of palliative care.
In general, I believe that we have been successful in nurturing this understanding that palliative care and VAD are separate entities without any overlap and this was the position that I promoted during my two terms as President of ANZSPM. There has been little overt conflict within the palliative care community because we generally agree on the scope of what we do.
More recently, the ANZSPM, the Royal Australasian College of Physicians (RACP) and Palliative Care Australia have produced similar position statements or policies on VAD. The links are below:
They all support the need to provide high quality care at the end of life and recognise the diversity of opinions in our community.
The RACP Statement on voluntary assisted dying states:
"The RACP respects and supports all its members and does not believe it is appropriate or possible to enforce a single view on a matter where individual conscience is important."
The RACP statement also defines a number of standard practices that should not be considered as VAD. It places great emphasis on the need for high quality palliative care to be available to all patients, respect for their values and beliefs, and the need also to respect the values and beliefs of clinicians.
In essence, the lead organisations for palliative medicine and palliative care have made very clear that the determination of the legal status of VAD is the responsibility of governments in consultation with the community at large and with advice from the medical profession and other health workers.
Over the more than 40 years that I have been practising medicine, the beliefs and values of the members of our community have changed. This is reflected in a number of observations that I would like to make:
We are becoming increasingly aware that medical technology can sometimes prolong our life without sustaining its quality, or even simply prolong dying.
Almost all of the many thousands of patients whom I asked over my career were far more likely (well over 95%) to be unafraid of being dead and much more worried about how they would die.
The growing acceptance of the normality of an inescapably finite life means that many people are adjusting their expectations of how their life will play out. They accept that they will die, and their hope becomes that they will have a peaceful end to a good life. When a patient accepts that they are dying, their family are also better able to deal with their grief, and vice versa (see Ranjana Srivastava, Let's talk about the art of living and dying well, The Guardian, 5 June 2019).
Increasing numbers of us are engaging in Advance Care Planning with the goal of maintaining control over how our life ends. Most patients are focusing on the quality of their remaining life, with a particular emphasis on maintaining their independence and control. Many are concerned not to be a burden for either their family or their community.
While lack of access to good palliative care should not be a reason for a person to seek VAD, good palliative care does not prevent all requests for VAD. Of those patients in Oregon who availed themselves of their right to VAD in 2018, 90.5% were enrolled in hospice programs and the majority cited aspects of their diminished quality of life as the reason for their VAD.
Increasing numbers of us believe that we have the right to control our own lives and should not be dictated to by those who have beliefs different from our own. Many are expressing their belief in the right to make choices about the timing of death, and most people do not see VAD as wrong, evil or unethical.
I believe that we are most effective in palliative care when, through our common humanity, we are able to nurture in our patients a calm acceptance of the normality of death that allows them to find a place without fear, and to feel safe in our care. In doing so, I have always encouraged and respected the right and need for my patients to find peace in the beliefs that give them comfort, never inserting my beliefs into the process. Also, while I have always abided by the law and endeavoured to reverse the reversible when it is the patient's wish to do so, I have never felt that it was my job to persuade people that it was wrong for them to wish that they could bring their life to, what is for them, a timely end. Most particularly, the care of dying people is not the place to fulfil our own personal belief systems.
Our individual positions on VAD emerge from philosophical consideration of the source of our rights, or otherwise, to make our own choices for our own life. I understand my life as having a beginning, a middle and an end. Dying is the inevitable but unpredictable process of the irreversible breakdown of the dynamic order and organisation that is the hallmark of an individual life.
If I am comfortable and at peace when I am dying, I might be content to let nature take its course. On the other hand, I might feel that, as it was all downhill from here, there would be no point hanging around for a few more days or weeks as I came to feel less and less well.
However, in light of my professional experience, I can easily imagine myself dying in the less common irreversible and unpleasant circumstances that are not amenable to even the highest quality of palliative care. Under those circumstances, I could well decide to end my own life, and VAD would be my preference and my decision.
I know I am not alone among the cohort of specialists in palliative medicine as I hang up my clinical hat for the last time and step outside the domain of palliative care to voice my opinion. I support VAD with appropriate safeguards to protect vulnerable people from harm and malicious actions, and to ensure that clinicians' values and beliefs are also respected.
Dr Will Cairns OAM is on the verge of retirement from his medical career, first as a GP, and subsequently as a specialist in palliative medicine.
The statements or opinions expressed in this article reflect the views of the authors and do not represent the official policy of the AMA, the MJA or InSight+ unless so stated.